Bear
by Maryanne Pearce
(Ottawa, Ontario)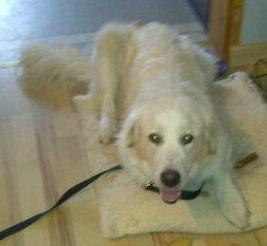 Bear prefers the bed to the scary floor!
Bear is a cross, of some sort (golden retriever or lab, perhaps). He was originally supposed to have come into care in July, 2011 but his owners changed their minds. They contacted us again in October for assistance. Bear is a sweet, loving dog, but has not been trained and was too excitable around the children. He lived outside his whole life, and is quite frightened by stairs and flooring. At 70lbs, he is a small boy but has the double dew claws and looks very Pyr-like. He is an absolute Teddy Bear!

Bear has now been neutered, microchipped and given all his vaccinations. Born in September 2010, he is a young boy with a long life ahead of him. He has been extremely frightened by all the changes he has gone through, and needs some attention and encouragement. However, in his first 24-hours of care, he started to come around right away for cookies and cuddles. He will be an amazing dog for one lucky family. In fact, friends of Maryanne Pearce saw her photos and updates on Facebook upon his arrival into care and fell in love. Originally planning on adopting a Pyr for December, they are now going to adopt Bear right away! So, Bear will be going directly from "adoption" to "happy tails". Congratulations!

The SOGPC Rescue Team would like to thank Rollie's new mom for advising us of his plight, and for arranging for her daughter (another Pyr owner) to bring him to meet Maryanne Pearce. And also to Chrystal for driving him to and from Dr. Graham's for neutering and veterinary care. Dr. Graham and her office staff do an amazing amount of work to help all of these Pyrs in need.