Beautiful Bear is Home at Last
by Maryanne Pearce
(Ottawa)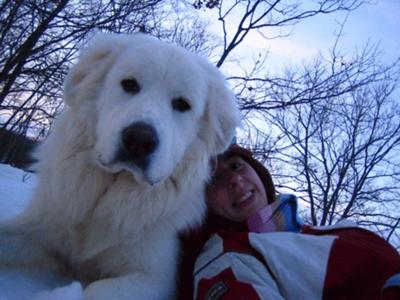 Great Pyrenees Rescue Bear
Bear needed to be re-homed, and although we were contacted, we had no foster homes immediately available. However, his owners were able to keep him a little longer as the rescue team worked very hard to find him a new family to love. Everyone's efforts paid off and Bear was introduced to his potential new family.

We were fairly sure that this was going to be a match. And we were right. A lovely family, who had lost their pyr, were taken by this great big boy. Bear has gone to a wonderful new home. His original family was terrified he would end up back at the shelter they had adopted him from - who had told them that large dogs (especially males) are often put to sleep soon after they arrive.


Many people, including our Great Pyr Rescue Team, worked very hard to find Bear his new home, and we are very happy with the outcome.

And to Bear's new forever family... a big thank you for opening your home and your hearts to Bear.

This was Bear's story...

Bear was adopted in January 2009 from a shelter after being surrendered at 10 months old. His owners describe him as a "super sweetheart". He is great with all people, including children, and was raised with young children. He is a large, gentle boy. He is also great with cats. He is dominant towards other male dogs, so he needs a home without male dogs.


Bear has been neutered. When he is adopted, he will be microchipped and all up to date on his vaccinations. He is fully house trained but loves to be outside too. When first adopted by his owners last year, he did suffer from a bit of separation anxiety, but a routine quickly settled that.


Unfortunately, his owners are unable to keep him. As with most pyrs, he does not stay in an unfenced yard and the long rope used to tie him up has become a danger for the children. And, as with most pyrs, he is a barker. A fenced yard is not affordable at this time. His family really wants this sweet boy to find a permanent home with a fence where he can live forever; he deserves it.


Bear's owners are unable to keep him, and time is running out before he is returned to the shelter. The SOGPR rescue team is completely full with fosters right now. Would this beautiful boy be able to find a forever home with your family? Or, would you be able to foster this boy? He needs to be adopted or placed in a foster home by mid-February 2011.