Great Pyrenees Rescue Gypsy
by Great Pyrenees Rescue Team
(Ottawa)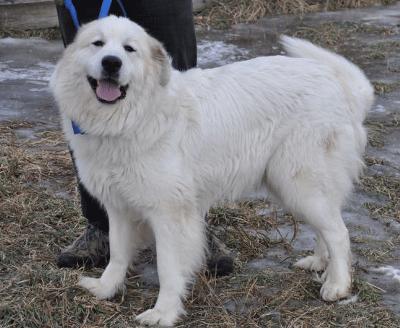 Great pryenees rescue Gypsy
Gypsy has found her forever home. This was her story.

Gypsy is a lovable teddy bear who is very possessive of her humans. She loves to play; she loves to be petted; she loves belly rubs! Any an all attention is welcome and invited. She forgets herself occasionally and the Pyr paw goes up to your knee or thigh.

In my estimation she is not yet 2 years of age, probably more like 20 months, although she has already undertaken guard behaviour, checking the perimeter every time she goes out into the large runs and checking each room when she comes in.

She gets along well with the other dogs during the day, although I would suggest she be an only dog or with one who would not challenge her for she takes charge of the run when she is there. She sets herself on guard duty as soon as she has finished her inspection. It is important to establish yourself as leader immediately because she would gladly take over.

She is house trained and has the basic commands of sit, stay, down and she walks well on a leash. She is very happy to take long walks and a ride in a car is a real treat for her. She installs herself so she can easily see out the window and is content to stay there quietly.

Just as she does not readily share her humans, she does not readily share treats or her food. She should therefore be fed separately from any other dog in the house.

If you want a girl to accompany you throughout the day and on your errands, Gypsy would be happy to oblige you. She will guard her human or her family well. A home with or without children is fine, however, the leadership order would need to be established immediately.




Gypsy en français

Gypsy est un beau toutou aimable maïs très possessive de son humain. Elle aime jouer; elle aime se faire caresser et se faire câliner; elle aime les gratouilles de bedaine! Toute attention est bienvenue. Parfois elle oublie les bonnes manières et voila la patte Pyrénéenne sur votre genou ou cuisse.

J'estime qu'elle n'a pas encore 2 ans, tout probablement 20mois, quoiqu'elle a déjà entrepris la tâche de garder la cour, en vérifiant les périmètres à chaque fois qu'elle sort dans la grande cour et en revisitant chaque chambre quand elle renter dans la maison
Elle s'entend bien avec les autres chiens pendant la journée maïs je suggère qu'elle soit dans une famille seule ou avec un autre chien qui la laisserait prendre la place de leadership. Elle prend en charge la cour quand elle y est. Elle devient la gardienne en chef aussitôt que l'inspection soit finie. De plus, il serait important de lui montrer toute de suite que c'est vous le chef de meute parce qu'elle prendrait la place volontiers.

Elle est propre dans la maison et connaît les commandes de base : assis, couché, attends, au pied. Elle marche bien en laisse. Elle est très heureuse de prendre des longues marches avec son humain. Elle aime aller en auto, un grand bonheur pour elle. Elle s'installe pour regarder par la fenêtre et se contente d' rester là tout tranquillement.

Comme elle n'aime pas partager ses humains, elle ne veut pas partager des gâteries ni sa nourriture. Elle devrait pouvoir manger à part d'aucun autre chien.

Si vous voulez un compagnon pendant votre journée ou pour faire vos courses, Gypsy ne sera que plus heureuse de vous accompagner. Elle s'occupera soigneusement de son humain ou de sa famille. Elle aime autant de enfants que des adultes et ferait un bonne compagnon de service pour une personne plus âgée ayant un bon tempérament pour ce type de travail. Qu'il y ait ou non des enfants, le leadership doit être établi toute de suite. Elle veut connaître l'ordre des choses pour accomplir le travail qu'elle perçoit.

.Vous voulez bénéficier des soins de cette belle, gentille et aimable Pyrénéenne?