Remy Has Returned Home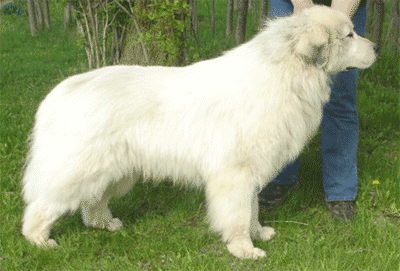 Please help us find Remy. Remy is a prize Great Pyrenees Mountain Dog that escaped from his home on Thursday July 23, 2009. He does not like thunder storms and was spooked and escaped. We must find Remy.
Remy escaped from his owner Lois Mackintosh of Limberlost Kennel. Limberlost is located in Locust Hill in the Markham, Pickering Highway 7 area.
Remy is a big dog weighing over 100 pounds and is a "Gentle Giant".
Great Pyrs cover a wide territory so Remy could be found many miles from his home in Locust Hill. Please, if you see a large white dog loose, it will most likely be Remy.
We have great news. Remy is back home! He was found three weeks after he departed for his adventure. He was thin and full of burrs, but otherwise unscathed.
Thanks to all of you for your concern for his well being.
---
---