Great Pyrenees Puppies
Your Resource for
Great Pyrenees Breeders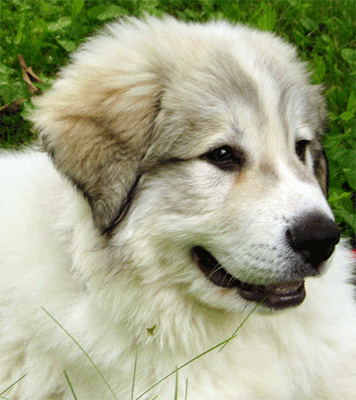 There are Great Pyrenees puppies for sale. Those words can change your life!
Are you looking for Great Pyrenees Puppies? You have come to the right place! This section of our site introduces you to Great Pyrenees Breeders who are members of our club. But we don't stop there. We have also included information to help you select a breeder as well as your puppy no matter where you live.
Our Club is comprised of everyday pet owners, livestock guardian owners and Great Pyrenees Breeders. All of our members have a love of Great Pyrs and genuinely want to see the best for this breed. And of course the club is committed to supporting those goals.
We believe that careful breeding combined with placing Great Pyrenees puppies in the homes of well-informed buyers is key to producing positive outcomes and reducing the sad realities faced by our Rescue team.
When acquiring a Great Pyrenees puppy, be informed!
Please make this decision wisely!
The decision to bring a Great Pyr into your life means making a major commitment and a potential change to your lifestyle. We believe that you cannot be too well informed before you make this enormous commitment. That is why we are willing to do everything we can to assist in getting the right dog for you. And what can we do to help? Let's review.
1. This whole website is aimed at providing you the best quality, most honest information available about the Great Pyrenees Mountain Dog. This is not an easy breed to manage and you need to know that. But with your proper commitment the rewards are unbelievable! So take time and explore our site.
2. Need help selecting a breeder? We can provide you advice on selecting a breeder. Here's a Guide.
3. Do you live in Southern Ontario, Canada? We can introduce you to breeders that we know and trust because they are active members of our club.
4. We can expose you to other realities that are not so happy. Take a look at our Rescue Section. It not only provides a lifeline to dogs in need but also represents what can happen. And you need to know this as well.
5. And finally… here are two things that every potential Great Pyr Puppy buyer should AVOID AT ALL COST!
Backyard Breeders and Puppy Mills
For you, a potential purchaser, this is a resource to assist you in making your choice. Of course we are happy to introduce you to Club member breeders, information about their current litters, or tell you when puppies may be available. You can find all of this information at the links below.
However, the ultimate decision of where to buy is your decision and yours alone. Do your homework and obtain as much information as possible to ensure that you are making the right choice. Please use this resource to help you make an informed decision. It is here for you, and for the puppy you may bring into your life.
Current Breeders With Great Pyrenees Puppies For Sale
We are pleased to present the following breeders who are also members of our club. When you click on each breeder's link, you will be taken to the current Ad for each breeder identifying if they have Great Pyrenees Puppies for sale, contact information and links to their web sites where they are available.
Enjoy and thanks for dropping by.


Aragon Reg


Woolmarsh Reg'd




Return Home from Great Pyrenees Puppies Available
---
---