Foster a Pyr

We are in need of experienced Pyr fosters.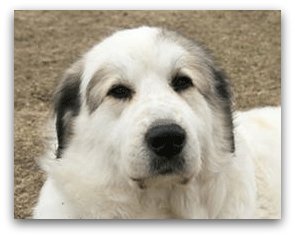 If you can foster a Pyr, we need your help!
We are looking for experienced Pyr people to foster dogs coming into our care.
Maybe you are considering adopting but are not sure and would like some flexibility in making your final decision.
If you would like to foster, we can help you.

Know that fostering a Pyr means saving a dog and getting them into their forever home. It's important to understand that many of these dogs have been surrendered because they may have issues such as excessive barking, separation anxiety, fear of people, dog reactivity, or they have not been worked with using positive-reinforcement methods (reward for good behaviour and redirect for unwanted behavior) to help them become good canine neighbours. You need to be committed to working with these dogs to make them suitable for adoption. We are always here to help you.
---
---
Why are Foster Homes so important to us?
What a great question! When you provide a foster home for a Pyr you provide the magic ingredient that makes rescue, rehabilitation and permanent placement of every rescued Great Pyr possible.
We are an all volunteer club and our resources are limited. We do not have buildings equipped to house rescued and surrendered Great Pyrs. But we do have an ongoing need to house rescued Pyrs until we find permanent forever homes for them.
And that is where you, our foster families, provide the magic ingredient to allow us to save more Great Pyrs. You see, without foster homes to provide temporary shelter for rescued Great Pyrs, we would have no capacity to rescue and house these beautiful dogs while we find their forever homes.


When You Foster A Pyr You Change Your World
All it takes to make a difference is to place yourself on our list of possible Foster Homes. It is that important to us and to our Pyrs in need.
These dogs may come with some issues. We need fosters who are committed to working with them with our help. This means staying in touch with us so we can help you.
Thank you for considering fostering for us.
To enable us to make the best selection of available Pyrs for you, we ask that you provide information to us through the use of our Foster Application Form which follows.
---
Don't forget to complete your application before you leave our Foster a Pyr page.
Return to Home page.

---
---
---