Foster a Pyr

We are in need of experienced Pyr fosters.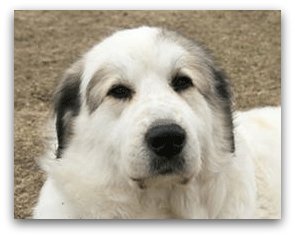 We are looking for experienced Pyr people to foster dogs coming into our care.
Our trainer assesses the dogs coming into our care. If she feels they can go right into an adoptive home, they do since the fewer transitions for a dog, the better. We have a list of screened adopters. The dog goes to the home we feel is the most suited to the dog and family.
If she feels a dog needs some work on an issue(s), we put the dog into foster care. The foster would work with the dog with guidance from our trainer. When our trainer feels the dog is ready, the dog will go to the adopter. That said, if you, as the foster, decide you would like to be the adopter, that will be considered.
Know that fostering a Pyr means saving a dog and getting them into their forever home. It's important to understand that many of these dogs have been surrendered because they may have issues such as excessive barking, separation anxiety, fear of people, dog reactivity, or they have not been worked with using positive-reinforcement methods (reward for good behaviour and redirect for unwanted behavior) to help them become good canine neighbours. You need to be committed to working with these dogs to make them suitable for adoption. We are always here to help you.
---
---
---
Don't forget to complete your application before you leave our Foster a Pyr page.
Return to Home page.

---
---
---