Contact Great Pyrenees Club of Southern Ontario - We Love To Get Mail

So Don't Be Shy... Drop Us A Line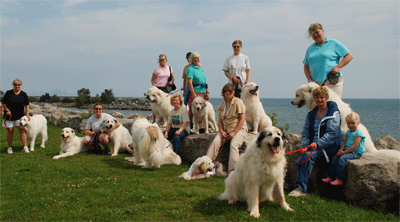 Before we go any further, let's make sure that we direct you to the area that best suits your needs. There's no point in getting lost now, is there?
If you have seen a Great Pyr rescue that you want to adopt and you have already completed our Adoption Form, please contact us by using the form below.
If you are interested in adopting a Great Pyrenees Rescue–know that many of the dogs we get in are not Pyrs but mixes or Akbash/Maremma/Kuvasz breeds–, either by providing a temporary foster home or by adopting one of these beautiful dogs into your home forever, please visit our Adoption Area.

If you are in the sad and desperate situation of having to give up your dog because of any reason, we can help. All you have to do is visit our Surrender Area.

If you have any other questions or comments, you will find that we are a friendly bunch and we would love to hear from you. Why not drop us a line?
All you have to do is use the form below.
---
---