Pyr Rescue

Surrender Application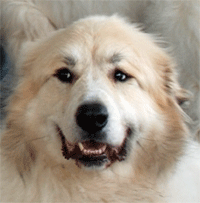 You have a Great Pyrenees Mountain Dog that you would like to surrender. Please fill out the surrender application below, and we will get back to you once we have reviewed it. Be prepared to send photographs, as well.

Know that Pyrs are not aggressive by nature. Those are the ones who have been well-bred and socialized and handled by many many different people in their first eight weeks of life to be continued by their new family.
We avoid bringing in mixes since the Pyr is the breed we know. We don't know other breeds.
Note that we do not accept dogs with aggression (this includes dogs who have bitten, do not allow invited guests into your home or attempt to attack people on the street) or behavioural issues such as separation anxiety or attacks other dogs. In the case of aggression, we suggest you return the dog to the breeder.

For behavioural issues, engage a vet behaviourist and/or positive-reinforcement trainer who will come to your home to assess and show you how to manage your dog if they think it is possible. Also, have your dog checked by a vet to ensure they are not having any medical issues that may be triggering the aggression.

Do not rehome your aggressive dog. This will put your dog at risk of being abused (including dog fighting rings) for this behaviour. Know that aggressive behaviour will only escalate with time.
This is a blog on behaviourial euthanasia.
Knowingly surrendering an aggressive dog or a dog with behavioural issues into our care is a legal liability, and puts our fosters, potential adopters and the public at risk.

---
---
We take in Great Pyrenees since that is the breed we know. Does your dog have two nails on each hind leg with a pad for nail? This doesn't always determine if it is a Pyr but it's the closest indication we have. Should we bring your dog in, we will also ask for you to send in some photos of your dog.

First, complete the Surrender Form below. Then a member of our Pyr Rescue team will contact you directly.
Our Surrender Form provides us with the most information regarding your dog. It may take an hour to a few days to be reviewed.
If you need to contact us urgently regarding surrendering your dog or if you know of a dog in immediate need, you may contact our rescue coordinators directly. Your phone call/email will be returned quickly, usually within 24 hours. Please phone only between 10 a.m. and 8 p.m. 
Emergency Contacts
Southern Ontario: Dr. Carol Graham
Home: (519) 853-3005 - please leave a message
Clinic: (519) 855-6439 - provide information to receptionist if Carol is not available
Please phone only between 10 a.m. and 8 p.m.
---

Ottawa / Eastern Ontario: Donna Harris
Home (evenings / weekends): (613) 224.6501 - please leave a message.

Please phone only between 5:00 p.m. and 7:00 p.m.
Please send a Message to Donna.
Messages are checked very regularly.
---
---
---
Leave the Surrender Form and return to Great Pyr Rescue.
---
---