Great Pyrenees Rescue Huey Has Found His Forever Home
This was the story of our Great Pyrenees Rescue Huey.
Meet Magnificent Huey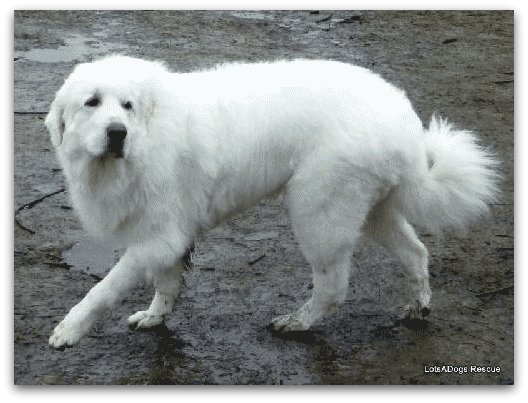 Huey is a large young adult male Great Pyrenees Rescue. He is an owner surrender… according to them they "didn't know he'd get that big" and he "doesn't like other dogs". It's hard to believe we know, but it's true… many Great Pyrs are surrendered because of their size.
When Huey first arrived at the Rescue he was thoroughly unnerved by the trip, frightened but came around very quickly for cookies. He's 2 yrs old, approximately 125 lbs and is a NICE dog! As it turns out, he is fine with other dogs but a little baffled as to what to do. He has a sense of humour and is surprisingly smart too.
HUEY is up-to-date with routine shots, is house trained and neutered. We REALLY LIKE THIS DOG but we have to find him a forever home.
UPDATE: We've watched Huey and he is an amazing dog with people and is good with kids and no problem with cats (he can 't catch them anyway).
He is OK with other dogs - he's here with 24 of them - but he is rude with them and can be unpredictable and we are going to say no other dogs for him. He is fully aware of his size and takes advantage of it with other dogs but not with people, although you need to be an experienced dog owner to have a Pyr.
We really love him in spite of his sometimes nasty behaviour with some other dogs and he's great on a leash - not even a "leash lunger" - a happy, easy going dog who is very obedient and loving.
When other dogs charge him he goes after them even when they're already retreating and that's rude. He can be made to stop but you need a big voice and more than that you need TO BE THERE AT THE TIME.
He hasn't an issue with cats or kids but Pyrs are an independent breed and he doesn't need other dogs. He needs exercise and is cute and funny and easy going and very obedient too. He does shed and needs regular brushing… but what Pyr doesn't?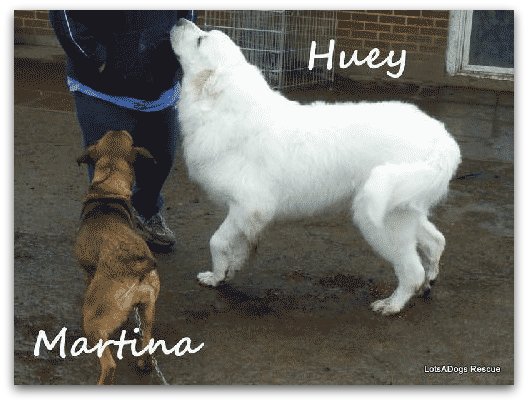 Update: Huey was in foster for approximately 4 weeks but while he tolerated the little kids there, he didn't interact well with them. He tried to stop them from running and playing and even growled at them. He loves to go on long walks, 1-2 hrs at a time, and is fine with the kids when doing so, but wants to be left quietly on his own the rest of the time.
We feel this results from a lack of exposure to little kids in his formative months and we are going to adopt him to a kid free home only or a Pyr experienced home.
At only two years of age this magnificent Great Pyrenees Rescue will respond to an experienced owner and develop into a model citizen. We are not looking for a Foster Home for Huey since we want to place him in his forever home now and let him settle in without any further turmoil in his life.
If you don't have kids or other dogs and would love to share your life with a Great Pyr, Huey is the dog for you.
Here is the Happy Tail of our Great Pyrenees Rescue Huey
Our Huey Bear was adopted into a family with 2 children - ages 6 and 9. They also have a cat. They are located on a large piece of property that Huey gets to guard. Huey is getting lots of love and great walks.
There was a period of adjustment when Huey first arrived as he felt he was top dog and accordingly tried to rule every one and everything. However with some patience, some work and some additional training, he has learned to fit into the family. Every one is now happy and Huey is happy and thriving. Huey has his forever home.
Our thanks to the wonderful family who have provided Huey with his forever home.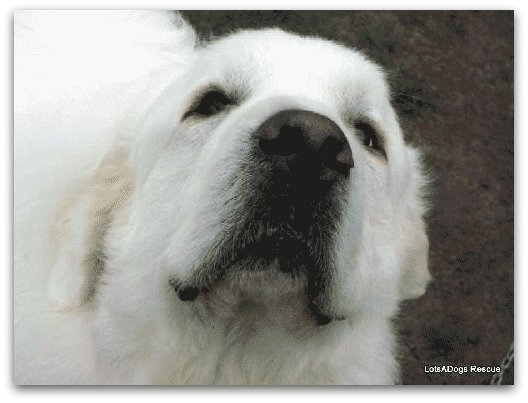 Would you like to help us help dogs like Huey? You can use your Credit Card or Paypal to make a donation to support our rescue work. All donations are greatly appreciated… no matter how small. You can be assured that every penny goes to support our rescued Great Pyrs.
Your Payment is Secure!
Why not check out another successful Great Pyrenees Rescue Story?

---
---