Arthur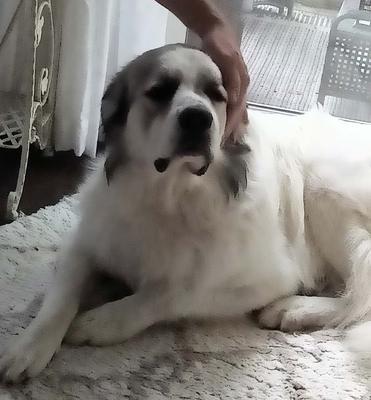 *With great sadness, his family had to say goodbye to Arthur. As he settled into his new home after two months, and felt very comfortable, he started guarding one owner from the rest of the family.

This is the result, again, of lack of socialization in his first 8 weeks of life to be continued by his first owner. Perhaps he was taken from him mom too early. There may have also been a genetic component to his behaviour. He was surrendered to a shelter originally, so we suspect it was for this reason, but that reason was not relayed to the shelter. We always like to give these dogs a chance, but it wasn't to be for this big boy. His 'breeder' failed him. This is not a behaviour that can be rehabilitated.*

*ADOPTED*

From his family:

Arthur and Anna continue to make an awesome team and he's a great addition to the family. Still can't get past the kitchen yet, but time will get him there.

This big boy is on trial with his new family. They have a female Pyr whom they adopted from a shelter. She is very happy to have him around.

DOB: 16. September 2021


Location: Erin, Ontario


Please do not take dogs to dog parks as not all people are as responsible as you are. Find some like-minded people, and join up in someone's backyard.

From us: Arthur has been with us a few weeks now. He is the most lovely boy who gets along with the dogs he meets. He just wants to be where the action is with his people, but he does love to be outside!


From previous owners:

DOB: 16. September 2021

Location: Erin, Ontario

Children over 12 as he is a big boy.

Please do not take dogs to dog parks as not all people are as responsible as you are. Find some like-minded people, and join up in someone's backyard.

Arthur is an absolute sweetheart. He's very gentle and is wonderful with adults, small children and other critters. That said, he did chase the cats in the home, but all in fun, because wow, that cat ran away when he chased. Dog-savvy cat(s) would be best. He will not harm them. This can be worked with easily through Home School the Dog or Recallers.

His previous owner states he came from a busy household of 4 children, another doggie, kitty and a big fenced-in backyard where he could run and play.

He will go to a single dwelling home with a securely fenced large yard of at least 6 feet. Whether or not you have 100 acres or a smaller yard, secure fencing is a must. No tie outs or shock fencing is permitted.

He understands "sit, lie down, come and shake a paw (he shakes both) .

He loves his naps on the bed throughout the day, lots of treats of any kind, having his ears gently petted, lots of kisses and hugs, snuggles, belly rubs and most of all, walks with his Dad.

He doesn't seem too fond of either kibble we've bought for him. Raw food is the species appropriate diet. Check out this podcast. Holiraw Nutrition.

He is very good thru the night. He will bark if he hears something threatening or another dog barking, but will sleep quietly on the bed or floor.

He is full of personality and acts silly with his toys and treats, so it is our hope that he will be adopted by a family who can spend lots of fun time with him and give him the love he so richly deserves.

He is the perfect dog. His only issue is that he does have a little separation anxiety. This is understandable as yours will be the fourth home in which he has lived. You will need to work with him on that. Give him time. He wants to make sure he won't be moved again. He has been fine with his foster.