Bernie
by Great Pyrenees Rescue Team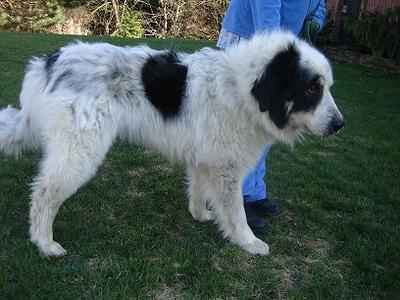 Great Pyrenees Rescue Bernie
We are pleased to announce that Bernie has found his forever home. Our thanks to his new family.

Bernie is a wonderful white and black male Great Pyrenees who is between one and two years of age. Bernie was given up by his previous owner because he did not want to be a livestock guardian dog. Bernie kept running away from the sheep! Bernie was kept on a chain his whole life and was not given the attention he deserved. He didn't even have a name. Bernie is now in a foster home and looking for his forever home. Bernie is very calm and friendly towards people, children and other dogs. Bernie seems to adapt well to new situations. Bernie knows basic commands like sit, down and shake a paw. He is also neutered and up to date on vaccinations.

Return to Post A Happy Tail 2012.
---
---