Buddy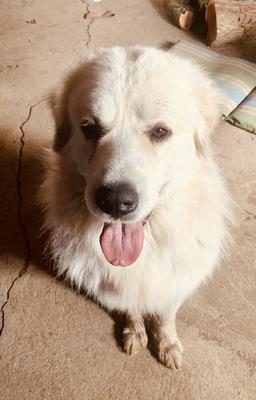 *ADOPTION PENDING*

DOB: November 15, 2018

Located in Erin, ON

A farmer asked a good neighbour for some help to get sweet Buddy rehomed to a good and loving home as Buddy prefers to be a companion dog than a dog who watches over livestock. This does happen occasionally.

This big lovebug is a kind and gentle soul. And, as a big white, does wander so he must be contained in a securely fenced area.

He was a bit nervous going into his good samaritan's home as he had lived outside since a pup. He has become comfortable, but, as an intact male at that time, marked.

We do know he has been good with other dogs as the farm had other dogs, and there were no problems. His temp foster confirms that he has been fine with her dogs.

He is being housetrained and doing well. Once he gets into a routine with walk times, and how to ask to go outside, he will be fine.

He has been fine with adults. Children are an unknown, but we are told with his sweet personality he is probably fine. That can be determined on a meet and greet.

He presently lives with two older cats, and has been fine with them. He is not crate-trained yet, but he is good on a leash.

He will go to a single home dwelling with a securely fenced yard. As a big white, he does wander. Be prepared to walk him on at least two good hikes/walks a day, plus let outs in the yard. We do not recommend dog parks as not everyone is responsible, and fights can ensue.

Make sure you are financially able to go forward with any unforeseen vet bills, and a proper species-appropriate diet.

It is a prerequisite for adopting Buddy to sign up for Home School the Dog or the full Program Recallers. Proof of registration will be required. We want to set you, and your new dog up for success.

If you think your family is the right fit for this boy, please fill out the Adoption Application.



There is a $400 adoption contribution at the time of adoption.
Return to Post A Happy Tail 2021.
---
---