Courtesy Post - Bruno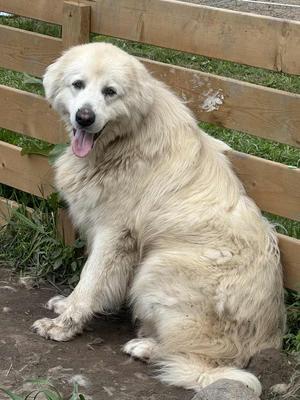 Sadly, Bruno became increasingly aggressive, and was injuring livestock so they succumbed to their injuries.

DOB: May 30, 2022

Location: Markham, Ontario

Working dog

Crate-trained: Yes

Good on leash: Yes

Good with people: Better with women than men

Bruno, a Maremma fluffy, is a working livestock dog. He presently watches horses, ponies, goats and cow. Proper introduction to livestock on new property is always required. He will stick close to any wandering livestock. He loves his animal companions.

He would do really well on a farm with lots of livestock to watch over. He will bond with these people. His sibling has gone onto another home. As is often the case, he is coming out of his shell. He will bark at strangers that come on to the land. He is becoming friendlier. Always allow a dog to come to you on his own terms.

Bruno loves to be outdoors. He is not an indoor dog at all. He has been living outdoors for the last year. Even in -20 degree celsius he prefers to crawl up into a ball in the middle of a snow storm, and cover his face with his big bushy tail rather than use his dog house or run in shelters. That said, you must always have shelter available.

Bruno will need an experienced dog owner. Someone who understands this breed and who is willing to take the time it requires for him to trust his new owner.



Join in and write your own page! It's easy to do. How? Simply click here to return to Rainbow Bridge.
---
---