Great Pyr Rescue - Mister
by Great Pyrenees Rescue Team
(Greater Toronto Area)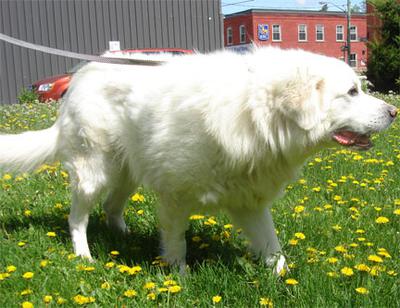 Great Pyr Rescue - Mister
Mister has found his forever home. This was his story...

Mister is a special 1-2 year old male/neutered BWH (Big White Hairy dog, likely a Maremma cross). Mister was found as a stray, and initially timid around people and new situations. While he can still be somewhat protective around strangers, he is very affectionate, playful and friendly with people he knows.

Mister is a special dog as he has a deformity of his front legs. He only has two toes on one foot, and three toes on the other. While his handicap doesn't seem to slow him down, he would be best suited for a quiet household or small hobby farm. He seems to get along with other dogs, and horses; we are unsure about cats.