Great Pyrenees Rescue Shanti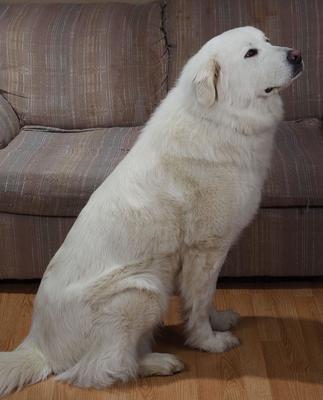 Great Pyrenees Rescue Big Shanti
We are so delighted that Shanti has found her forever home. Our thanks to her new family for opening their home and their hearts to this wonderful dog.This was her story...

GPCSO Rescue dog Shanti the Big White Fluffy

"Hi! I'm Shanti. I'm 18 months old and I love to run. Where I lived before, they said I'm a Pyr but Marianne calls me a Big White Fluffy because I only have one dew claw on each hind leg rather than two. Otherwise, I look and generally act like a Pyr of my age!

As I said, I love to run. I also like to stick close to Marianne whenever she's out and around. I like attention and lots of hugs and stuff. I try to get her to play with me as often as I can! I like to play with anyone who will so I bow and curtsy to invite them.

I was born on a farm where the lady wanted my mum to have a litter. I was the last of my brothers and sisters so I was taken home with my older sister. Since there was no fence, my sister and I would chase off the deer. The neighbour didn't like that because she wanted to feed them and keep them coming back. My sister and I didn't think that was a good idea so we ran them off. The neighbour complained to the Fauna authorities and the lady where I lived before has to go to court about this. She thinks that if she only has my sister and the wimpy Bernese boy , she might be able to keep them. I was just too active and I barked at the deer.

I sleep inside because Marianne brings me in but I really like hanging out and cuddling into the three feet of straw in one of the outside shelters. I do like to be with her though so I follow her in.

I also love to have lamb bones to chew. The cartilage is nice and crunchy and it's good for my teeth! "

Well, that's Shanti's story. She is a really sweet girl who likes to stay outside and run with my boy P3. She pretty well tires him out. Of course, she is right in the active adolescent stage. Although she knows to sit, down and stay, she doesn't walk well on a leash and pulls. She really needs to be put though her obedience training again (doggy boot camp) to remind her of proper behaviour.

Since she is very strong, she would be best in a home with older children (10 +) because she could easily knock over a younger child with her enthusiasm. There was a two year old in the original home but he was never with the dogs. They lived and slept on the porch. Since Shanti, like any puppy, found chickens were great squeaky toys, she liked to chase them so she was taught to leave them alone and now lies down among them and guards them.

Presently she is outside during the day and comes in to sleep. I have to insist but she is very happy to follow me in. She is good with confident male dogs because she has her own ideas of pecking order.

She gets along very well with my 3 year old intact male now that P3 her in her place once when she tried to hop on his back. He put her on her back and held her for a little while. There was no aggression on either part, just establishment of proper order. I have not put her out with my intact females because I see signs of possible same sex aggression because mine are intact. She could probably learn to get along with a spayed female but there would need to be training done.

I suggest she be fed separately since she guards her food and treats. When she will sleep in the kennel,she will be closer to the other Pyrs and will probably integrate more easily with the group.

As mentioned, she needs a bit of boot camp re-training. She learns rules quickly and behaviour acceptable in a new home will be easy. Consistency in expectations is very important with her. She likes company and so is easy to convince.

OH, and she doesn't bark overly much, at least not here. After all she is 'Pyr' but mine do their guarding well so she may not need to.