Great Pyrenees Rescue - Zoe
by Maryanne Pearce
(Ottawa)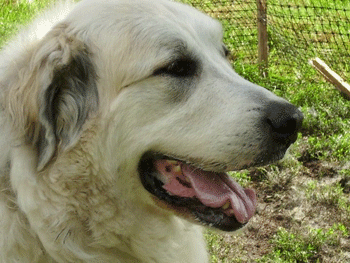 Great Pyrenees Rescue Zoe
Our wonderful Zoe has found her forever home.

Lovely Zoe is the apple of her new mom's eye. Mom works from home, and has a constant companion to keep vigilant and warn of attack squirrels! She has lots of play dates with other dogs. In fact, word of the new big dog in town has opened a whole new world for her new mom and dad - invites for walks, play dates and get togethers with other big dogs and their family.

Zoe settled in very well with her new family. Congratulations to Zoe for finding her forever home and thank you to her wonderful new family.

This was Zoe's story...

Zoe is almost four years old. She is a gorgeous dog, loving and friendly to creatures large and small: dogs, cats, bunnies, guinea pigs. But not squirrels - those she will chase! This lovely dog does not chew or cause damage in the house, and is house trained. She absolutely loves children. She likes her walks and is a relative couch potato during the day. Zoe has been raised with another, older dog, so she would do well in a home with other dogs.


Zoe's family recently moved into the city from the country, where they live in a townhouse, and have no fenced yard. Zoe is quite protective of her home and family, and barks when she sees anything encroaching on her territory, which doesn't sit well with the neighbors. Zoe has been with her family since a puppy, and has been well-loved all her life. Although heart-breaking, Zoe will not be able to remain with her family. Her mom had listed her on kijjii previously but was happy to have the SOGPC Rescue Team offer to help find Zoe the perfect forever home.


Zoe could benefit from some additional training regarding walking. Currently, she needs to be walked on a halti. She occasionally lunges at school buses when walking, and will pull you towards other dogs to get a sniff. Training will help Zoe to bond to you and your family, too.


Zoe is in good health. She is up to date on her vaccinations, spayed, and due to a turned in dew-claw, she had her dew claws removed. She will be micro-chipped prior to adoption.