Jack (formerly Theo)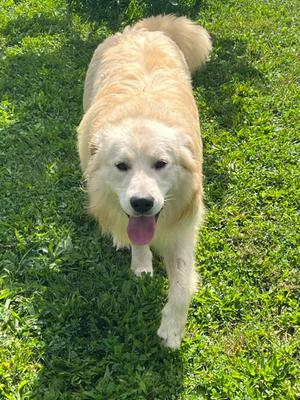 *ADOPTED*

Remi and Jack (were Sammy and Theo) were adopted together. They have found an incredible home with a very loving family!

Location: Acton, ON

Approx age 1 year.

Animal control brought Sammy and Theo to us thinking they were Pyr mixes when they were found as strays.

They are actually Samoyed/Golden Retriever crosses. Samoyed being the dominant breed and they are the size of Samoyeds.

Although they are siblings, it is usually best to separate them, although they don't like to be separated as they haven only known each other since birth. One is always overshadowed by the other. Once separated, the under dog inevitably flourishes.

They are super friendly and good with people and dogs.

They have had no training (although we are working on it), and have extremely high energy. They will need house-training, but that is something that is easy to work with.

A pre-requisite will be to sign up for Recallers, or a modified version Home School the Dog program to give you and Theo the best chance at success. Proof of registration will be required.
Return to Post A Happy Tail 2022-2023.
---
---