Lily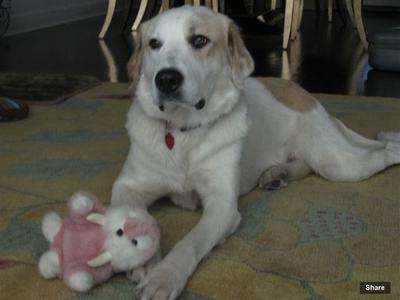 Great Pyr Rescue - Lily
Lily has found her forever home. Our thanks to her new family. This was her story...

This is Lily. She is a beautiful sweet 8-year old Pyr who had a rough start in life. She came from a puppy mill seizure when she was about two years old. She had already had a few litters.

She was adopted by her present people. They house-trained her, leash-trained her and had her spayed. She had some extensive training, as well. She is crate-trained. They have helped her see the world can be a lovely place.

Unfortunately, due to health problems, they are unable to continue to give her the attention she needs.

She is a good girl who is not destructive with no separation anxiety, no aggression towards children nor adults. She loves children and will roll over and smile immediately. She would do well in a home with children and with another dog to play with. She came out of her horrendous experience fairly unscathed.

She is good with other dogs at the park or kennel.

Lily is extremely good natured unless there is a squirrel, cat or porcupine in sight! On-leash she obeys a "leave" instruction despite drooling with anxiety!

She weighs 85 pounds and seemingly always hungry. She may never get over wondering where her next meal will come from. She will counter-surf so don't leave any steaks on the counter!

She is very quiet in the house unless the doorbell rings and then she jumps into action with her bark.


Return to Post A Happy Tail 2014.
---
---