Maggie
by Great Pyrenees Rescue Team
(Ottawa Area)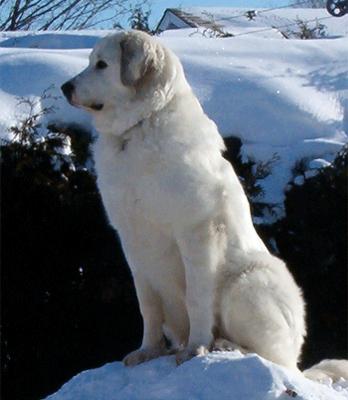 Great Pyrenees Rescue Maggie
Maggie is a beautiful, sweet, friendly 5 year old house dog who prefers the cool air conditioning to life in the yard. Her preferred observation post is on the rug in the middle of the living room where she can see all the comings and goings of the inhabitants.

She has been living since puppyhood with the same family of two adults and a 10 year old child. With cats, she is an unknown not having been in contact but being so laid-back, I would expect that guard instinct would make her ignore them unless needing protection. That is the usual reaction.

At the dog park, she runs but does not overly socialise with the other dogs. Probably a martingale would be advisable.

Like all Pyrs, she must go to a home with a fenced yard because they will explore the neighbourhood to reconnoitre their surroundings. Again, as any Pyr, she will bark to signal any encroachment onto her yard, her territory. A yard large enough for her to stretch her legs would be advisable.

This is a wonderful laid back dog who will only stand up to another dog if she feels that the other one is being aggressive, in other words, a true Pyr, a loving teddy bear who will protect her people if necessary but otherwise ignores the lesser beings.

Her family feels they do not have adequate time for her anymore. Special time was at their cottage but they do not have this anymore and dogs are not allowed at their campsite.

They feel it is unfair to put her into a kennel every time they must leave.

For further information please contact Marianne Glofcheski (819) 985-1044 or contact us through the Contact Form on this site.