Mya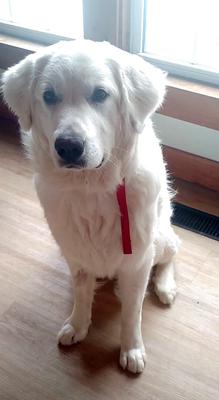 *ADOPTED*

Congratulations to Mya and her family!

From her family: She will go outside in the fenced area and is good at indicating when she needs to go, but does not seem to want to go out just for "fun."

We do go on long walks - my husband takes her in morning and me in the afternoon. She is a pleasure to walk and no longer tries to "pull" when he handles the leash.

She is great with my son - we never have had a worry about her around him.

Inside she is still very unsure of my husband. She will have good days and not so good days like today where she barks and growls at him. We are working on this, and slowly, but surely we know she will become more confident with him.

She is eating well as we get her onto raw.


She is used to being with another dog so this also will take some adjustment for her.

She has gone through much transition in her short life, and we are taking this all into account.

Her story:

DOB: 20. April 2022

This little white fluffy came to us when her family realized they did not have time for her.

Myra is quite unsure of many things, but is slowly becoming more confident as her foster works with her.

She loves children, and is good with the resident cats and male dog. She is good with other animals.

She is unsure of new people especially males, but she is slowly coming around with socialization.

Her new people will be working with her through Recallers or Home School the Dog.
Return to Post A Happy Tail 2023.
---
---