Niko
by Jana Chvatal
(Toronto)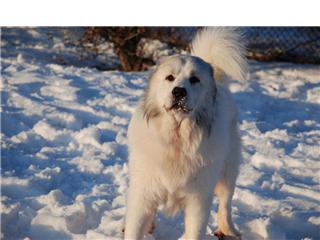 Guard mode
Ch Limberlost NIko, RA, CGN, DD, VX, RNMCL (CARO) Therapy dog adults and kids

Niko loves to guard and do his part to maintain peace. LOVES animals, whatever you put in front of him except coyotes, he goes nuts for those.

He is now 5.5 and living with Lexi, whom he adores. They romp and party together and now even with my parent's rescue rottie. The three take turns playing monkey in the middle.

He hates shows, but loves to track, cart and kind of enjoys doing rally.

Niko was our first pyr and has taught me more than I'd have ever otherwise known. He mirrors my moods, and is such an 'old soul' kind of dog. VERY calm and clever. EASIEST puppy in the world to raise, it was a joke (yet we still made mistakes, like taking him to off leash park where he got attacked, and had to work on getting rid of some fear)

He's incredible with fearful dogs or ones that people need to rehab and create balance. He disciplines what is required, barks when needed or ignores if that's the case. He's worked with countless dogs that needed that and has made a huge difference in their lives.