O'Malley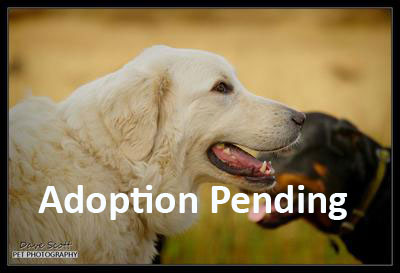 O'Malley
O'Malley is a three-year old Pyr mix (we think mostly Maremma). He was surrendered due to financial issues with his former family. He went for one trial adoption but it did not work out. Not every home is a good match for a particular dog.

He is doing well in his foster home. It appears as though he hasn't had much interaction on the street and isn't used to loud noises but with consistent and patient guidance, he is gradually becoming less-sensitive. He tends to bark incessantly when he is stressed but that, too, is lessening with increased exposure to those things deemed stressful for him. This includes car rides and walks on the street. Agnes recently had guests over which did stress him. However, he settled in. Lots of treats! He will need someone who is willing to continue to work with him.

He used to live with a cat and rabbit so he would be fine with those in the home. He presently shares his foster home with the resident Pyr/Maremma mix. He is crate-trained and also likes to sneak up on the bed for snuggles.

He would do well with an adult-only home who has experience with this breed.

Pyrs, as do Maremmas, need patience and consistency in their training and someone who will work with their instincts. They are independent thinkers and, therefore, only listen if it's worth their while.

As a Pyr mix, he does bark, dig holes in your garden, and shed (all of this can be managed). He will wander if not contained so he will need a home with a minimum 6-foot fence inside which he can play and watch his territory.

Please do your research on this breed to ensure this is the dog for you. Check out our website where you will find much information on this breed.

If you think you are the family for this beautiful boy, please contact Agnes at 289-489-2279.