Yuki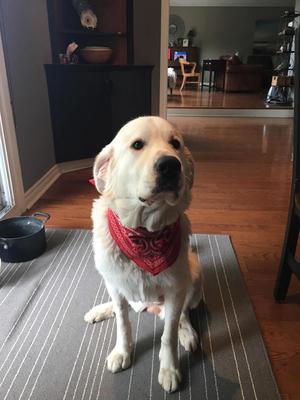 We are sad to announced that Yuki has passed away. Our heartfelt condolences go out to her family.

This is from her family.

Yuki has not been well for a few weeks. So she was sedated and a more thorough investigation conducted, including neck/throat area x-rays and it was discovered what was causing her symptoms. She has a massive, inoperable, very aggressive hemangiosarcoma that is wrapped around her larynx and has bent her trachea, is pressing on her thyroid and esophagus. The vet suspects metastases but even if it hasn't spread elsewhere it is life-threatening where it is located and highly aggressive. And given its location and extensiveness it is not operable.

*ADOPTED*

Not all families are suited to a particular dog and so, with Yuki, her sweet personality attracting a few families but not truly understanding her needs, has found a loving home who understands her.

Congratulations to Yuki and her family!

DOB: March 4, 2015

Yuki is back, again. She is a sweet sweet girl who is an escape artist and has separation anxiety. People have not given her time to settle in, sadly.

Know that when a dog goes into your care that they will follow you everywhere because they have no idea what the routine is. If you leave the room, they don't know where you are going so they want to go with you. It's a very stressful time for them. It takes at least 3-weeks for them to start to adjust and settle in.

9 months is the time it takes for full trust between you and the dog to happen.

Her story:

Yuki has been in my foster care since early September. We are surprised that no one has given her time to adjust to a new family life. Yuki was out on trial adoption twice, both for limited times.

She is a lovely, sweet girl who gets along beautifully with children who know how to respect dogs, cats who are comfortable with dogs and every dog she has met under my care.

She will pull on leash to meet another dog, but once she meets she is fine. This can be worked with if given the time and patience.

Yuki was in a home for the first years of her life and now experiences separation anxiety when left for any length of time, especially if confined. She may become destructive by chewing when she is confined and anxious. We are working on being left a little at time and she has improved.

She roams the house with no issue for short periods. When she first came into my care, this was not an issue but she displayed anxiousness in her last home which continued when she returned here.

Yuki can be an escape artist and is not road savvy if she becomes loose. This can be dangerous with cars. She needs a fence at least 6 feet in height with no high ground areas so she can't leap or climb if she sees something she wants to chase like a rabbit or squirrel. A run with top enclosure is best if she is left outside on her own when you are home. She is to be inside when no one is home.

She loves to play outside with our male Pyr but also enjoys relaxing inside and is truly an amazing companion dog.

Yuki sleeps inside and does well all through the night. She only has had two accidents here when her tummy was upset.

She is a Pyr so she will bark at passing wildlife at night but this hasn't been very often in our home. Yuki does well for long car trips of an hour or longer. She will bark if you pull up beside another vehicle with a dog in it but is calm for the ride.

Yuki has allergies to some grains and high allergies to potatoes. She has allergies to some outside grasses and weeds and had displayed mild itchiness here in fall. All her allergies are vet documented and info will be passed to potential adopters. She does well on Kangaroo and also very well on a raw diet (a natural diet for dogs). She eats, chicken, pork and beef without problems and her coat and ears look great since switching. She will do well to continue on a raw diet. She loves Benny Bullies!

There is a always an adjustment period whether you adopt a rescue or a puppy. Given the time, care and research on breed traits, I think Yuki would be an amazing addition to a family or a companion dog for someone who works for home and wants to include her in family time as well as keep her safe.