Yuki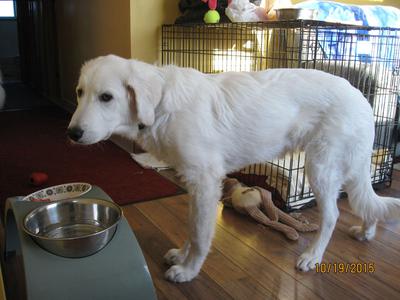 *Sadly, Yuki passed away January 2023 due to complications from cancer. Our heartfelt condolences go out to his family.

*ADOPTED*

Yugi has found a family who absolutely adores him and he adores them. He has his Cavalier King Charles Spaniel buddy, Fred, to whom he looks up. He is really coming out of his shell although still timid, but he even goes into the kitchen, now. He sits on the front porch with his person and watches the world go by as he gets used to the sights and sounds. Way to go, Yugi! Congratulations to you and thanks your family!

Yugie is a 6-month old (as of February 2015) sweetie. He is an Akbash mix.

He was 'bought' from a farmer by teenagers who lived in an apartment. He barked, as LGDs do, and is timid so the teenagers surrendered him to Toronto Animal Services because they didn't know what to do with him. TAS asked us to take him since many dogs don't do well in the noisy shelter environment.

He is underweight but slowly gaining weight since he devours his raw diet.

He loves playing with the resident dog. He keeps track of where she is since she provides comfort to him. He must go to a home with another dog with whom he can play and look up to.

He is very quiet in the house and is only now becoming used to going through doorways. His foster thought he would be a handful but he is far from it. He goes outside to do his business, plays and then comes back in for a nap, followed by chewing his bone and then another nap. He sleeps in his crate at night and is crated when his foster people are not home.

Agnes is working on encouraging him to go out the front door to venture out into the big wide world but he is not yet ready. He is an extremely timid boy who needs someone who has much patience to work with him to make him a more confident dog.

His nocturnal instincts really kick in as he loves to play between 21h00 and 22h30.

We have very good information on our website which we encourage you to take the time to read. Please do your research on this breed to ensure this is the dog for you.

As a Pyr he will bark. This is one of the tools that allows them to do their job to warn off predators. They dig holes in your garden to stay cool in the summer, and shed at least twice a year and will leave white dust bunnies throughout the year. They will wander since this is instinctive to them as they are used to wander with the livestock for which they care.

They must be contained within a large fenced-in area of a minimum of six-foot secure fencing in which they can run, play and look after their property. Tie-outs are not suitable since this does not allow them to properly watch over their territory. They have been known to go through invisible fencing so this is also not acceptable containment.

Pyrs need patience and consistency in their training and someone who will work with their instincts. Treat them as partners in a dance where you lead the way.