Courtesy - Maeve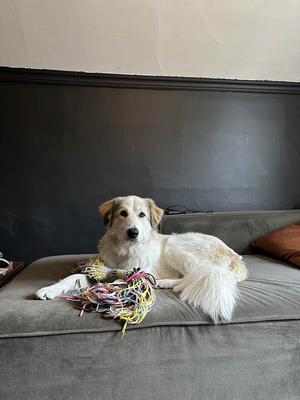 *ADOPTED*

DOB: June 15, 2021

Location: Peterborough, Ontario, Canada

Pyr-mix

Single-dwelling home with securely fenced-yard

Walks well on leash

Crate-trained: Yes

Resource guards: No

Great with people and dogs (as always, proper introductions are always required)

Cats: Very interested in cats but minimal interaction. Proper introductions are always required.

She will counter-surf or eat stinky things if left unsupervised. She is still a pup who simply needs from education. This video will help you. You can crate her when she can't be supervised until you get her trained just to set her up for success.

Maeve is independent and free-spirited. Even as a puppy, she took more interest in doing her own thing than anything else. Despite this, she is extremely affectionate and sweet with everyone.

Maeve enjoys a good cuddle but would be happiest spending most of her time outside watching over her property.

She is obsessed with any and all kinds of food (hers or not), playing with other dogs, her toy taco, and letting the neighbourhood know she is on duty.

Maeve has a tendency to bolt should she be given the opportunity but is quite content contained in a yard she can call her own. This can be worked with. Maeve is a barker, as Pyrs are, but mainly when outside. This can be worked with to minimize it.

She shares space with up to 4 other dogs and goes to daycare 3 times a week. She loves to play and be chased. She needs a large securely fenced yard to guard and a nice place to call home.

We highl recommend signing up for Recallers, or a modified version Home School the Dog program to give you and Maeve the best chance at success.

There is a $400 adoption fee.

If you are interested in Maeve, please complete our adoption application.
Return to Post A Happy Tail 2023-2024.
---
---