Juno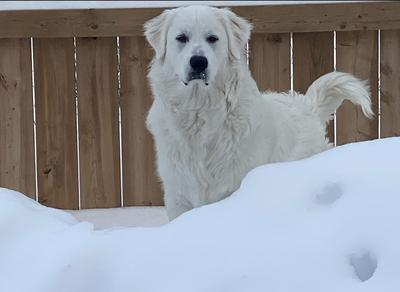 UPDATE

Her family needed to give up, again, when neighbour's complained about barking. As that was happening, we received an adoption application for someone looking for a friend for their Pyr. They know Pyrs well. It was just meant to be. Congratulations!

*Juno went back with her family.* They are finding a way to making things work. We are pretty happy about that. We love when dogs can stay with their families.*

DOB: March 19th, 2020

Location: Erin, Ontario

She is about 100 pounds.

Single dwelling home or hobby farm with a securely fenced area of at least 6 feet.

This big beautiful girl needs to find a new family. Sadly, her owner fell ill, and they had to make the difficult decision to give her up.

She is a great girl. She is good on leash, crate-trained, good with adults and children (only over 12 due to her size please), and other dogs. That said, if there is another dog in the home, it is recommended it be a male as not all same sexes see eye-to-eye in the home.

We don't know about cats, but we suspect, with proper introductions, she would be fine.

She is good in the car.

She walks well on leash.

If you are looking for a great girl to make a part of your family, she may be the one for you.

A pre-requisite will be to sign up for Recallers, or a modified version Home School the Dog program to give you and Juno the best chance at success. Proof of registration will be required.

If you are interested in Juno, please complete an adoption application.

There is a $400 adoption contribution. All proceeds go back to the dogs in our care.


Return to Post A Happy Tail 2023.
---
---