The Great Pyr Christmas Gift Exchange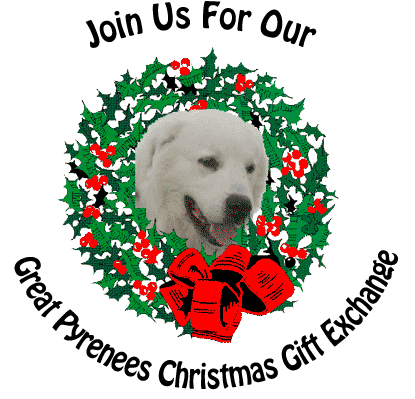 Welcome to our Christmas Gift exchange!! It is the Christmas season and the spirit of giving and sharing is in the air.
Would you like to exchange a gift with us?
We love to give… we do it all year long. We give our time, our knowledge and our experience to benefit the Great Pyr Breed and to inform and help those who love and own these beautiful dogs.
We are an all-volunteer organization. We rescue Great Pyrs in need. We make them well. We find them loving homes. We educate and inform those who love Great Pyrs. It is what we are committed to do. And we do it with love.
Would you like to be a part of what we do? You can be. Why not join our Gift exchange? We can't think of a better way to top off your Christmas Gift List.
And you don't have to worry about what to get us, nor do you have to go shopping!!
All we want for Christmas is your donation to help us continue our work. And knowing that you are a Pyr lover, we have a gift for you in exchange.
Yes, for a very limited time, we will give you in exchange for your generous donation, a copy of our e-Book titled: Tips on Training and Living with your Pyr Puppy.
We know you will enjoy our book as so many others have. So please accept it as our Christmas exchange gift to you.
We really hope that you enjoy our site and find value in it. Your donation will help us continue to provide our services over the coming year.
Wishing you a very Merry Christmas from all of us to you.
Great Pyrenees Club of Southern Ontario
Your Payment is Secure!
---
---