Great Pyrenees Rescue Alice Has Found Her Forever Home
This was her story...
Our Great Pyrenees Rescue Alice came to us from a shelter. She was found, wandering in a farm area. Since this is a regular occurrence at his time of year, from August to October, we suspect she was dumped, expecting her to be taken in by a farmer or to fend for herself.
She is about 2 years old, of medium size, weighs 84 pounds and is a typical Great Pyrenees, calm and very sweet.
Alice is a very affectionate and calm dog, in and out of the house. She is good with kids, teenagers and adults. She is a guardian and will bark when someone comes to the door, but she is a fast learner and responds well to verbal corrections, such as "NO!". She will easily learn when it is appropriate to bark and when not if this is work on.
Alice will not dig or eat your plants. She knows basic commands and hand signs, such as "assis" (sit), "couche" (down) and "donne la patte" (give the paw). She is trustworthy free in the house during the day or during the night, but be warned, she will curl up on the couch to sleep comfortably. However, if you tell her to get off, she will do so immediately. She doesn't resist. She is also completely house trained and will ask for the door.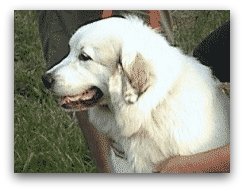 Alice walks perfectly well on a leash. The main issue and concern has been her growling and barking towards other dogs we encountered during the walks.
We suspect it's a lack of socialization or training on a leash, as we were able to control the situation by simply making her sit and stay while the other dogs passed. She has probably been challenged by dogs on her leash walks and needs a little work to unlearn this reaction.
Being a quick learner, we are confident this bad habit will disappear. She does get along with other dogs; she lives and has fun with our other four canine residents.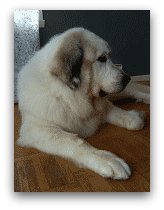 This Great Pyrenees Rescue would fit well in any quiet home with someone who is willing to be firm with her and continue her training and socialization. She doesn't require much exercise; two walks per day seem to suffice as she prefers to emulate a doormat.
She could fit into a home with another dog, but we recommend a calm canine partner that won't challenge her constantly.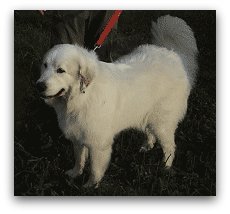 Alice is a sweet, beautiful and calm girl. She charms everyone who meets her. She is a real catch for the lucky person she adopts as her very own to take care of.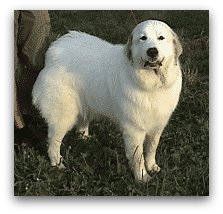 Would you like to give Alice her forever Wonderland?

You can share your life with this beautiful Great Pyrenees Rescue... Just contact the club using the contact information on this page, or contact Milena and Francis at (514) 998-2958.


And the Happy Ending...
Alice has gone to a home on a mountain and her adopting family are already thinking of getting another Pyr to keep her company. Alice is a very lucky girl to have found this much love. And we're sure she will give lots back in return.

Why not check out another successful Great Pyrenees Rescue Story?


---
---