Great Pyrenees Rescue Cannelle - A Very Happy Tale
Foster homes play an enormously important part in our Great Pyrenees Rescue success. Here is another first hand account from our Quebec based foster Mom extraordinaire.
Cannelle is a 5 year old spayed female, brimming with energy, who likes to run and play with my other dogs. I had the distinct feeling that she was reliving her adolescence when she was here. It would seem that this was her way of adapting to the change in her life.
Cannelle is another victim of a couple separating. Being a Pyr, she knew something was not right and she started barking and becoming less 'manageable'.
The 12-year old girl loved her and she slept by her bedside. The teenage boys were not interested in caring for her as they were dealing with their own issues.
The neighbour would walk her each evening and keep her over the weekends. Finally he convinced them to find her a new home since the lady had the three children, the dog and a full time job and had little time for Cannelle.
They brought her to me. It took three days for Cannelle to get to a point where she would trust me enough to come out of her kennel pen with me and into the big run. Once there she had an inexhaustible amount of energy. When she saw that all my dogs were treated well, she started coming to me when called.
Although she likes to be in the house, she has shown guarding talent and would probably do well on a farm where she could be with humans and animals both.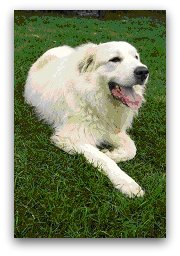 In the week an a half she was with me, she went through all the stages of adolescence. What an energetic 5 year old! She finally settled down after having explored every nook and cranny I have allotted the dogs. She took her shift in guarding. It always intrigues me how Pyrs decide among themselves who does what job.
She has gone to a hobby farm with pet animals, horses and other creatures, to guard. She seems to be happy there.

Would you like to help us? You can use your Credit Card or Paypal to make a donation to support our rescue work. All donations are greatly appreciated… no matter how small. You can be assured that every penny goes to support our rescued Great Pyrs.
Your Payment is Secure!


Why not check out another successful Great Pyrenees Rescue Story?
---
---