Great Pyrenees Rescue Edouard Has His Christmas Wish Come True
You may remember this Great Pyrenees Rescue named Edouard, a young neutered male - estimated age less than 1.5 years. A beautiful Pyr with a sweet disposition, he came to us from Quebec. He loves people and is good with other dogs and animals.
Edouard had been placed with a couple where he adjusted to his new home and his new owners were very happy with him.
They discovered however, that like many Great Pyrs, Edouard is an escape artist. As a result, they had to redo the fence for the property in order to ensure that he did not escape. But apart from that he had settled in quite nicely.
Well unfortunately, Edouard's desire to be an escape artist continued. The family who adopted him loves him, but Edouard is a true escape artist and the family lives on a busy highway. He has been getting out nearly every day and there is concern that he will be killed or cause an accident.
Part of the fence that he gets out of is electronic invisible fencing, which he just runs right through.
So sadly, the family has had to return him to us so Edouard is a Great Pyrenees Rescue once again.
Edouard is a wonderful Pyr and really needed a home with a secure fence.
Edouard's Christmas wish has come true. Here is the wonderful conclusion to his dog adoption story.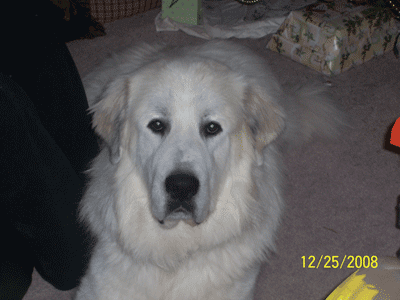 Edouard has found a new home and family in time for Christmas and the New Year (2009). He has been placed with a young family with a 5 year old boy.
His outgoing personality attracted them in the first place and he has not disappointed. He has fit right in and is kept busy by a 5 year old – either playing or guarding. So far he appears to have abandoned his escape artist ways and is content to stay at his new found forever home.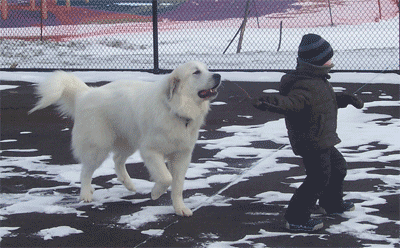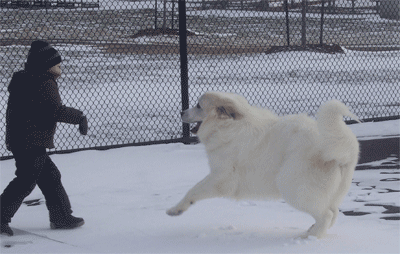 And to conclude our dog adoption story, here is a final word from his new adoptive owners..."Here are a few pictures that I've taken of our Edward. (We aren't really French so we are calling him Edward, he doesn't seem to mind.) We are getting outside much more now that he has joined our family; it's good for everyone. Thank you for all you do for dogs like Edward."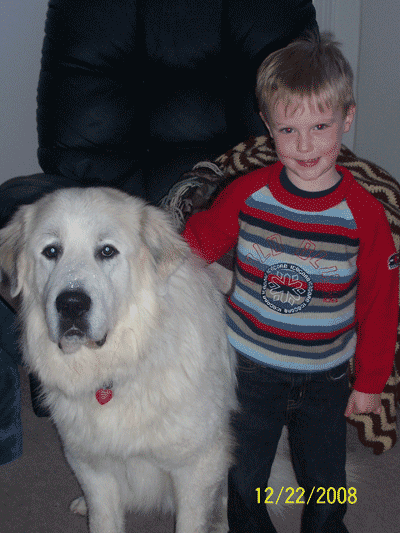 Edward is a very fortunate dog. Thank you to his new family for making his dreams come true and his dog adoption a real success.
Would you like to help us? You can
use your Credit Card or Paypal to make a donation
to support our rescue work. All donations are greatly appreciated… no matter how small. You can be assured that every penny goes to support our rescued Great Pyrs.
Your Payment is Secure!


Why not check out another successful Great Pyrenees Rescue Story.


---
---