Great Pyrenees Rescue Garrett Has Found His Forever Home
This was Great Pyrenees Rescue Garrett's story.
Garrett the Great Pyr is Looking for You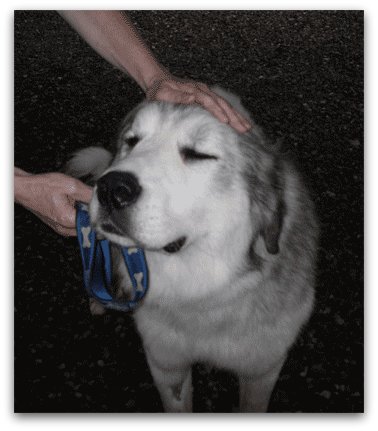 Our Great Pyrenees Rescue Garrett is a 2-3 year old male who was found roaming the countryside. He weighs only 85 pounds, so does need to put on a little weight, but that will come once he settles into his new forever home. He has been neutered and all his shots are up to date.
Garrett does not look his best at the moment as his hair was extremely matted and in fact several spots on his body had to be shaved to get rid of them. But the fur will grow back and he will show his true good looks.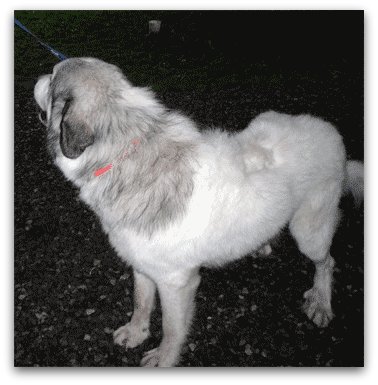 Garrett stayed with a Great Pyrenees Rescue family for nearly a week before being turned over to us. The family had a German Sheppard and Garrett got along well with him, playing and not showing any aggression. He gets along well with people and children. It is believed that he was initially raised by a family and then let loose to fend for himself. Garrett rides well in a van or a car, curling up in the back seat and going to sleep.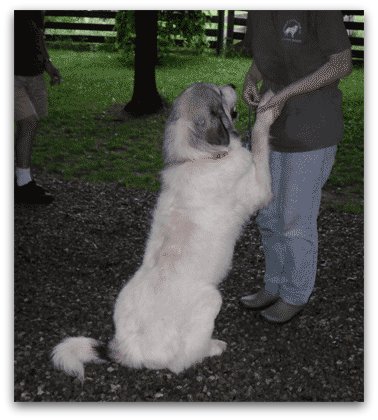 Garrett is extremely affectionate, leaning into you as you pat him and pawing at you when you stop, wanting more. He walks well on a lease, not even pulling but walking beside you.
Imagine having Garrett with you and seeing him blossom into the beautiful Great Pyr he is going to be. Make him yours. Garrett is looking for you.
And here is the Happy Ending... another Happy Tail...
Garrett was with us for about a week. When he arrived he was in bad shape as he had been shaved in various spots to get rid of the heavy mats. He had tapeworms and fleas so needed immediate attention.
He was medicated and treated for fleas and the fur was just starting to grow in. Notwithstanding he did not look his best, he was ready to go to his forever home. His adopting family had recently lost their Pyr and were looking for a replacement. They had had Pyrs and Pyr-crosses before, some of whom were adopted, so knew what they were getting into.
They have a large property (400 acres) so Garrett has lots of guarding to do. But he is up to the task and is happily watching over his new family and keeping them safe from harm. He is getting the attention and love that he needs and is thriving. His fur is growing back and he looks much better - more like a proud Pyr. He has found his forever home.
Many thanks to his new family for opening their hearts and home to this wonderful Great Pyr rescue.
Would you like to help us help dogs like Garrett? You can use your Credit Card or Paypal to make a donation to support our rescue work. All donations are greatly appreciated… no matter how small. You can be assured that every penny goes to support our rescued Great Pyrs.
Your Payment is Secure!
Why not check out another successful Great Pyrenees Rescue Story?

---
---