Great Pyrenees Rescue Grant Has Found His Forever Home
Our Great Pyrenees Rescue Grant was with us for only a short time and has already found a new loving forever home. This was his story followed by the happy ending... Another happy tail!!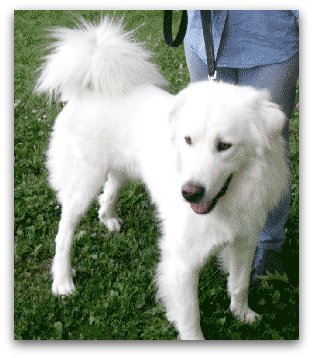 Grant is our newest Great Pyrenees Rescue in need of a new home. Grant was one of a litter of five that was abandoned and was found running wild. He was snared and rescued after falling into a frozen pond while looking for water. He is the fourth of the five to have been caught.
Grant is about 18 months old. He is currently only 73 pounds and needs a good home willing to give him lots of love and food as he is still growing and needs to gain some weight.
Grant is an extremely loving and friendly dog. He was calm during his lengthy transportation (1 full day) to our Rescue Facility. He greeted each new ride with a wag of his tail and settled in quickly for the next leg whether in a crate or curled up on the back seat of a car. He responded very well to hugs and pats and always wanted more.
Grant gets along well with other dogs and children and considering his circumstances is doing very well. He did not respond to dogs that barked at him, backing off and then ignoring them.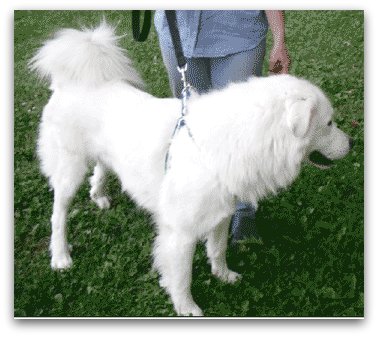 Grant does not like a collar and would not walk on leash. However, he did respond better when a halter was used and then walked quietly on leash.
Grant is a Pyr although we are not sure if he is a mix or purebred. As you can see from his pictures, he is a beautiful dog in need of a good home.
Why not make our Great Pyrenees Rescue Grant a part of your family?
And here is the happy ending...
Grant was placed very quickly with a gentleman who had recently lost his Pyr. He lives alone and was lonely without his pet. Grant was placed with him and is doing very well. Grant was very loving and needed someone to be with, so it was a good fit all around.
A big thank you to Grant's new family. It is kindness and generosity that makes our Great Pyrenees rescue and placements possible.
Would you like to help us help dogs like Grant? You can use your Credit Card or Paypal to make a donation to support our rescue work. All donations are greatly appreciated… no matter how small. You can be assured that every penny goes to support our rescued Great Pyrs.
Your Payment is Secure!
Why not check out another successful Great Pyrenees Rescue Story?

---
---