Great Pyrenees Rescue Jordy Has Found His Forever Home
Here is another example of the joy of a Great Pyrenees Rescue.
We adopted Jordy in late April 2009, and he is a joy and a large part of our family life. We met Chris in Riviere du Loop and brought Jordy back to Riverview, NB.
Jordy met his "brother" Bretton and other "brother" Rusty (the cat). They all get along perfectly, other than the odd fight over food - mostly Bretton's fault...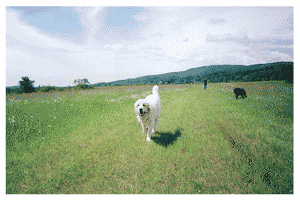 Jordy comes to the country with us as much as possible and loves to run in the meadow with his "brother" and us, and is quite proud of the fact that he's off leash. He does the circuit around the meadow and he is so graceful running and he looks like he's smiling.
We take him to the salt water beach at low tide and he loves it. We always go to the same place and he has established his parameter there. Sometimes he has other friends that tag along for the day too!
Jordy is such a unique dog and we feel very fortunate to have him in our home. He has adopted us as well, as he now sleeps in our room on his blanket, and he really hangs out with us. We can't get him to go down the basement stairs to the TV room yet for some reason, but we're not forcing him as we figure he'll come down when he's ready - or if he even wants to!!!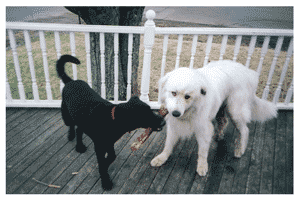 We feel a lot of gratitude to the rescue work that you do and we are so fortunate that you called us about Jordy. He is being well cared for and we love him very much.
Enjoy the pics of our spring and summer and we'll update you again when the winter is over. We can't wait to get him out on the trails.
Cheryl Scott & Don O'Grady
Riverview, NB
Would you like to help us? You can use your Credit Card or Paypal to make a donation to support our rescue work. All donations are greatly appreciated… no matter how small. You can be assured that every penny goes to support our rescued Great Pyrs.
Your Payment is Secure!
Want to see another successful Great Pyrenees Rescue?
---
---