Great Pyrenees Rescue Ladybelle Has Found Her Forever Home
Our beautiful Great Pyrenees Rescue Ladybelle has found her forever home with a new loving family. Ladybelle was adopted in the fall of 2010 by a young family in Ottawa who were delighted to have found the perfect dog. She has two young children to dote on her, who are also responsible for her walks and feeding.
This energetic, beautiful dog was in foster care a long time before finding her forever home. It is the love of adopting families like this that makes our work so meaningful. For everyone, it was worth the wait. Congratulations!
This Was Ladybelle's Story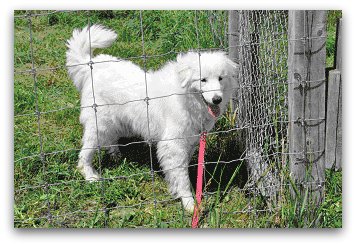 LadyBelle en Francais Our Great Pyrenees Rescue Ladybelle is a 14 month old registered Pyr weighing about 70 pounds. Being a small model, she will not be much bigger. What she lacks in size, she makes up in energy. As soon as she gets to the gate and it opens, she's off like a shot! Ladybelle has been spayed.
What a great dog for a child who wants a companion to run with! She'll even go after a Frisbee... Hasn't caught one yet but she's trying. Agility, anyone?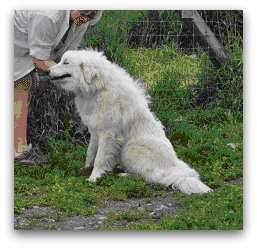 Ladybelle was surrendered to me a couple of weeks ago. And why did this delightful girl become a Great Pyrenees Rescue? The complaint was that she was digging up the flower beds and re-arranging the new landscaping. They contended that she was excitable and nervous and destructive and fearful of thunder and lightning.
Their 12 year old Pyr had died and they went back to the same breeder to get another one thinking she would be of the same line as their former quiet beloved girl. The breeder hadn't any but Ladybelle had just been returned at 8 months of age and was ready for a new home.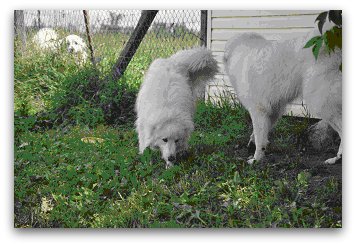 Ladybelle has turned out to be her own girl and not "like" any other. She is still an adolescent. She is smaller and will probably stay small. She is very active. She is not a quiet adult Pyr. She is a 14 month old, energetic Pyr who likes to run and play with other dogs.
I have seen no signs of nervousness nor of destructiveness, nor of hole digging since she has been here. We have had several wind and rain storms while she has been here and she has not been overly frightened. It may be the company of the other dogs that makes a difference. It may just be that she has exercise and is not bored.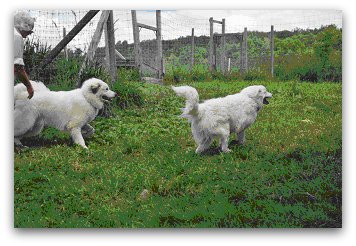 I asked for information from the breeder about why she was brought back the first time and why she was placed in the second home. Ladybelle was surrendered because of a break up in a family and they were unable to keep her. She was raised with 3 children and got along well with them. She was obedience trained and was well socialized with other dogs - able to take her to the park where she would play with other dogs.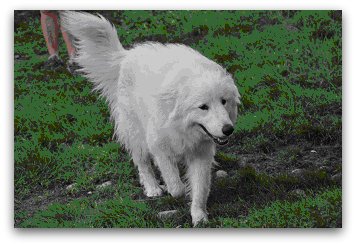 She was placed a second time with a lady who lost her 12 year old Pyr. She was looking for a replacement but was not up to the antics of a young Pyr still requiring lots of attention and exercise. As a result she is up for adoption again. She has a tattoo and I have her health records.
If you have an active family lifestyle and are looking for a Great Pyrenees Rescue to share it with, Ladybelle is willing to help you enjoy it.
Ladybelle has received some basic training and responds to well to: assis (sit), coucher (lie down), au pied (heel) and attend (wait). She also responds to the requisite hand signals.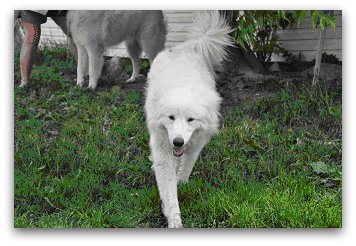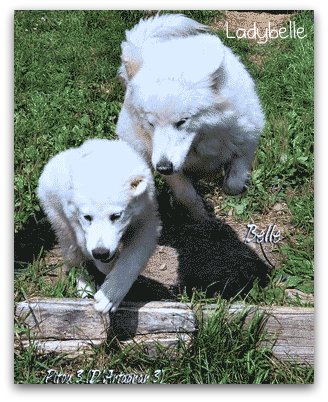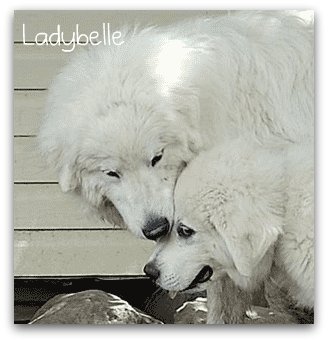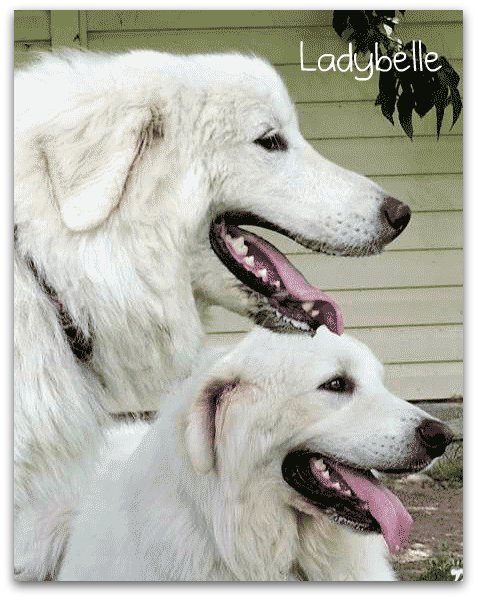 Would you like to help us? You can use your Credit Card or Paypal to make a donation to support our rescue work. All donations are greatly appreciated… no matter how small. You can be assured that every penny goes to support our rescued Great Pyrs.
Your Payment is Secure!
Why not check out another successful Great Pyrenees Rescue Story.

---
---