Great Pyrenees Rescue Logan Has Found His Forever Home
Logan came into our Great Pyrenees Rescue organization and dog adoption process in January 2009. We are very happy to report that Logan has found a home with a couple with a large backyard, with lots of trees. Our adopting couple owned Pyrs before Logan but lost their last one. They deeply felt the loss of their Pyr but Logan is helping to make them feel so much better.
And as a bonus for Logan, he has some new friends as well since is new human companions regularly baby-sit 2 Goldens. This has all ended so well since Logan has new playmates as well as a new loving family.
We thank our new adopting family for bringing joy and taking joy from Logan, and making this another successful dog adoption.
Read on to learn how Logan came to be a great Pyr Rescue.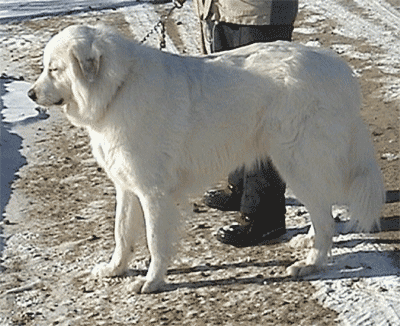 Logan came to us as a registered neutered male at 2 and ½ half years. We did't have the papers in hand but were able to get his registration number from the breeder. He was vaccinated in August.
Logan's original owner surrendered him in August 2008 because he divorced and moved into an apartment. He had traveled with his human (a contractor) wherever he went, to the office, on site, at home to the cottage. He pulled the toboggan, hunted frogs, and ran the 3 acre property.
He was placed with a young family with two children in August, 2008 in a house with an acre lot. Logan and his new family were happy together until the young girl developed asthma and the hospital would not allow her home before the two cats and Logan departed. Logan was picked up two weeks ago.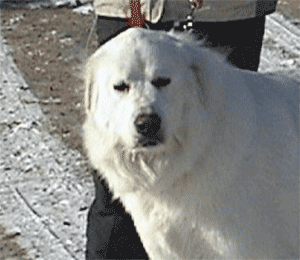 Logan is good with people, children, cats and small animals. He is about 30 – 31 inches at the shoulder and is a long dog. He is a house dog, obedience trained (sit, down, stay, heel … etc.), walks on a leash without pulling.

Would you like to help us? You can use your Credit Card or Paypal to make a donation to support our rescue work. All donations are greatly appreciated… no matter how small. You can be assured that every penny goes to support our rescued Great Pyrs.
Your Payment is Secure!


Why not check out another successful Great Pyrenees Rescue Story.
---
---