Great Pyrenees Rescue MIMU (Molly) Has Found A New Loving Home
Great Pyrenees rescue stories always need adoptions for happy endings. Here is Mimu's dog adoption story. Mimu has been placed and has a new name, Molly. Molly proved that she was not socialized enough when younger and as a result, she did not get along with other dogs.
She was briefly placed with a family with 2 dogs but she just could not fit in, even though she was a welcome addition. She was returned to Rescue but has now found a home with a couple with no dogs. She is doing nicely and it looks like she has found her forever home.
We thank our new adopting family for making Molly a part of their home and helping us with another successful dog adoption.
Read on to learn how Molly became a part of our dog adoption efforts.
Mimu was a 3 year old spayed female who came to us from a reservation where she was allowed to roam free. Mimu has a great personality and loves people.
Although she roamed in her previous life, she walks on lease very well and listens to commands. She appears very happy-go-lucky.
Mimu unfortunately is very territorial and does not like other dogs. She becomes aggressive and wants to protect people around her. So she will not do well in a home with other dogs. She will also need to be socialized when out for walks etc.
Mimu does not like going into her crate or cage and it is a bit of a struggle to get her in. However, once there, she is fine.
She does prefer more freedom and being with people, so needs a home where she will be able to walk about – a large fenced in area is a must for her. She also likes lots of attention but gives lots back as well.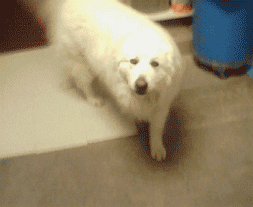 Would you like to help us? You can
use your Credit Card or Paypal to make a donation
to support our rescue work. All donations are greatly appreciated… no matter how small. You can be assured that every penny goes to support our rescued Great Pyrs.
Your Payment is Secure!


Why not check out another successful Great Pyrenees Rescue Story.


---
---