Great Pyrenees Rescue Nikki Has Found Her Forever Home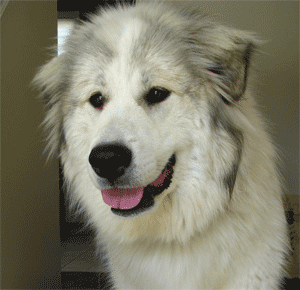 We are happy to report our newest successfully placed Great Pyrenees Rescue. Nikki has found her new "forever" home and is no longer in the care of her Foster Family.
It is the kindness and generosity of Foster Families that allow us to succeed with our Dog Adoption Program. We owe them our thanks.
And of course none of this would be possible without the open hearts and homes of our Dog Adoption Families. We send our special thanks to them as well.
Niki has settled in well and is continuing along the path of becoming another wonderful Great Pyr.
This Was Nikki's Story
All about Great Pyrenees Rescue Nikki:
Sex: Female (Altered)
Age: 14 months
Height: 32 inches
I am only 14 months old and I still have some maturing to do, but that is true for all Great Pyrs my age!
I had lived on a farm and never indoors but I am quickly learning my boundaries at my new foster home. My foster parents say I am a quick learner,
particularly when it comes with love and cuddles and especially food.
I am still getting used to life in a hectic household but everyone seem to think that I am doing just fine. My current home comes with 2 other dogs; one
big and one small and I do pretty well in sharing my space.
They also have 3 kids and I do pretty well with them too, but I love chasing the little one around when he starts running... so I would be best in a home
that has had big dogs in the past or a home with older kids.
I love my Foster Mom and Dad but I really do want a "Forever" Home where I can settle in with a wonderful family.
Would you like to help us? You can
use your Credit Card or Paypal to make a donation
to support our rescue work. All donations are greatly appreciated… no matter how small. You can be assured that every penny goes to support our rescued Great Pyrs.
Your Payment is Secure!

Why not check out another successful Great Pyrenees Rescue Story.


---
---