Great Pyrenees Rescue Sabrina Has Found Her Forever Home
There is no better source of information about a Great Pyrenees Rescue in need than from its foster home. Why? Because the immediate and long term needs of the dog is foremost in their minds. Here is a foster mom's story.


This affectionate Great Pyrenees Rescue is a two and a half year old girl who answers to Breenie. Breenie will give her love and loyalty to someone who is willing to let her guard them and theirs in a stable and quiet environment. She is a careful and sometimes wary dog. When I first took her out into the big run, she very carefully explored everything to know her environment before going out further. When she becomes comfortable, she is a very happy and enthusiastic companion. She would do very well in doing activities with her human carrying a backpack to feel useful.
Breenie needs a quiet home with a regular schedule since she doesn't like change very much. It takes her at least a week to adapt to a new place but when she figures out the workings, she will keep to the routine. When she first came to me, she had a tendency to lunge out when I opened the door. Although very nice tempered, her behaviour left a few things to be desired. The home she was in loved her but knew little about how to deal with a Pyr. Furthermore, she lived with another, mixed breed, female older than she, who controlled her food and her access to the people.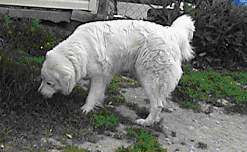 Although not physically abused, she had limited experience outside the house and the yard. She had never been in a vehicle and trembled all the way here in my vehicle. Yet a week later, when she went anywhere with me, she would jump in gladly to go for a ride.
Breenie learns very quickly. I had the impression that she was reliving her "adolescent" stage at an accelerated pace.
The first days, when I opened the door, she would lunge through. I insisted she sit before I opened the door and three days later, she would walk through, on the leash, although still very quickly, as if she expected the door to close before she could get through.
The first days also, I had to hand feed her as she would not touch food as if she didn't know that she had the right, even though she had her own space and her own food bowl. Three days later, she would wait for me to fill it and enthusiastically dig in to the chicken kibble, the ground raw chicken, or even a bone to gnaw.
Although walking on a leash was somewhat slower learning and she still has to be reminded that she shouldn't be pulling. I used a prong collar for a week with her to make sure she understood the basics of walking on a leash. (I do not recommend this unless you have already some experience with it. It should only be on the dog the duration of the lesson.)
Breenie doesn't socialise with other dogs very much. She played with my year-old male but would avoid the older dogs. It seems that her experience with the dog where she had lived has taught her to stay out of their way. Although she is not aggressive in any way, she probably would be better in a firm, loving, adult environment.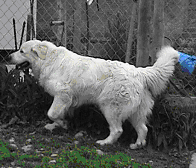 Sabrina is a beautiful Great Pyrenees Rescue. In the hands of a compassionate and firm companion she will learn the bond of trust that will make her a complete and balanced dog. All she needs is an understanding owner.
We are happy to report that our Great Pyrenees Rescue, Breenie has found a new forever home where she is loved and has settled in very nicely.
Would you like to help us? You can use your Credit Card or Paypal to make a donation to support our rescue work. All donations are greatly appreciated… no matter how small. You can be assured that every penny goes to support our rescued Great Pyrs.
Your Payment is Secure!

Why not check out another successful Great Pyrenees Rescue Story.
---
---