Our Great Pyrenees Rescue Samy Has Found A New Loving Home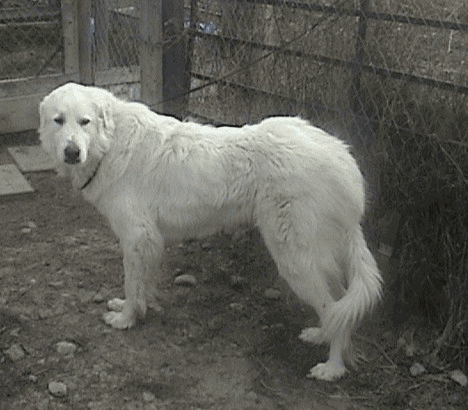 We have great dog adoption news about our Great Pyrenees Rescue Samy, a 2.5 year old spayed female from Quebec. We reported that initially, Samy was timid with strangers, but once she got to know you, she was very affectionate and outgoing. She related well with other dogs.
Samy was looking for a home where she could be around her family, going for walks and generally just being a Pyr.
Samy's dreams have come true!
New Owner- Brigitte was looking for a new female puppy for show purposes and visited Marianne's to see the potential Mom and Dad and consider a spring puppy.
However, it was love at first sight when she saw Samy and Samy saw her. After playing with her for awhile, Brigitte left and went home to get her male Pyr, who, like Samy, is 2.5 years old, and came back to see how they would get along. She also brought her boyfriend to see what he thought about this dog adoption idea.
Samy ignored the boyfriend but immediately started playing with the male Pyr and they played for about an hour. By that time everyone was hooked.
Samy apparently was in despair when Brigitte left the first time but picked right up when she saw her again. Brigitte took her home to see how it would work out and has had her for over a week.
Samy has taken to sleeping on the couch with them when they are watching TV, with her head resting on a lap, has adjusted to eating raw food and has adopted her new "brother" as her new best friend.
Brigitte returned to finalize the adoption bringing Samy with her. Samy got out of the car and allowed Marianne to interact with her and take pictures, but absolutely refused to go into a dog run with the other dogs. She insisted on returning to the car and stayed there until the adoption was finalized. There was no way she was going to be left behind.
She is being as spoiled as a Pyr can be. She jogs every day with her new family and has settled into her new routine. She has found her new home and loves it and she is not leaving….
Samy has been renamed Abigail - Aby for short.
We have one very happy little girl and happy new owners.
Our thanks to Brigitte and her family for opening their hearts and home to Aby and to Marianne for placing another Great Pyrenees Rescue Dog for the Club and enabling Aby to find a new home.

Would you like to help us? You can use your Credit Card or Paypal to make a donation to support our rescue work. All donations are greatly appreciated… no matter how small. You can be assured that every penny goes to support our rescued Great Pyrs.
Your Payment is Secure!


Why not check out another successful Great Pyrenees Rescue Story.
---
---