Great Pyrenees Rescue Teddy Has Found His Forever Home
Here is another successful Great Pyrenees Rescue story. We are always delighted to report another happy outcome for one of our rescued Great pyrs, and this one is no exception. We are forever grateful for the love and care our Foster Homes provide our Pyrs in need... and sometimes love just takes over. This has been the case with Eleanor and family, who so generously gave of themselves and provided foster care to nurse Teddy back to health.
Teddy has found his Forever Home with his Foster Family. Seems that they had him for so long he was difficult to give up. Teddy has made himself right at home and has trained Eleanor and her husband very well as many Great Pyrs do. And with all that love and attention, why leave? So teddy has his forever home.
Teddy's recovery and placement is a tribute to commitment and generosity of foster families like Eleanor's. Without them our rescue success would be limited.
Here was Teddy's story.
Our Great Pyrenees Rescue Teddy is approximately 3 years. He was abandoned outside of town and left to either fend for himself or die. He was rescued by the Belleville Humane Society and stayed with them for about 2 weeks before coming into our foster care.
When Teddy was found, he could hardly walk, was extremely listless and spent most of his time lying down. It was discovered that Teddy had bilateral dislocating kneecaps and a torn ligament on his right side. He had never received any treatment as a puppy for his problem and as a result has now developed arthritis in his knees. These injuries and health problems were the reason for his being unable to walk or move around a lot.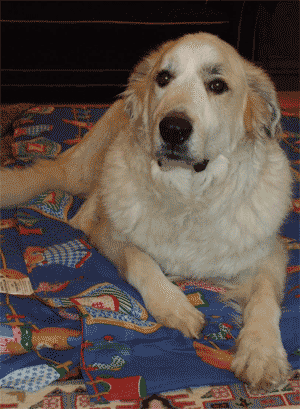 Teddy has since had surgery on his right knee to correct the ligament tear and kneecap. He will be having surgery on his left knee very soon and will be ready for adoption after he recovers.
Teddy is a different dog since his first surgery. He did very well and can now walk and run. His personality has also changed and he is a happy dog. He was extremely thin when we go him, weighing only 80 lbs. He has now gained 10 pounds and looks much healthier, although his weight will have to be monitored due to his knees. In addition, he is on glucosamine and metacam for his problems and will require medication for life.
When Teddy first came into foster care, he was very needy and fearful of being abandoned. As he has gotten better and adjusted, his fears have subsided and he can be left alone for some period of time. However, he still wants to be with you a lot. He is very loyal and loving and wants to be where he can see you. When left alone, he waits by the door on his pile of comforters for his foster parents come home. He loves people and interacts very well with children as well as other dogs.
Teddy loves his walks, but unlike most Pyrs, is restricted to shorter walks several times a day. This ensures that he remains active but does not stress his knees. He does like the outdoors and wanders around his fenced area, and appears quite content. However, he does not do that well in wet or extremely cold weather and needs to be indoors. Teddy would do very well with an older or retired couple, or people that are home and can spend time with him, as well as walking him during the day.
Here is an update on Teddy and his rehabilitation, from his Foster Mom Eleanor.
Teddy is doing very well. His check-up was fine and he is now able to lie down without dropping from a standing position with a loud thud. The second surgery allows him to bend his legs and lie down. It will be 3 weeks on Monday since his second surgery and we will all be very happy when it is one month and he is doing great. By that time healing will have progressed very nicely. It won't be long before Teddy is ready to leave our Great Pyrenees Rescue Foster Home and be adopted by some lucky family.
Here is a further update on Teddy from his Foster Mom Eleanor.
We have wonderful news about Teddy's progress. His Foster Mom reports that his Pyrenees personality is emerging. He is barking if he hears anything while in the house. He also barks outside.
He can now run and if you do not watch him he may get away. His Foster Dad had trouble catching him as he was following a coyote track through the yard. He also has started pulling a bit so it appears he is feeling pretty good.
Our Vet at Great Pyrenees Rescue says that he is now ready to go to his forever home where there would be a bit more activity, since he is lively and does pull if he wants to go somewhere. This is a very happy result and we will miss him very much.
Eleanor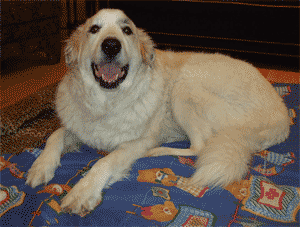 Like every Great Pyrenees Rescue, Teddy has so much love to give.
Thank you Eleanor and family for giving this very special Great Pyrenees Rescue his forever home.
Would you like to help us? You can
use your Credit Card or Paypal to make a donation
to support our rescue work. All donations are greatly appreciated… no matter how small. You can be assured that every penny goes to support our rescued Great Pyrs.
Your Payment is Secure!
Why not check out another successful Great Pyrenees Rescue Story.


---
---