Great Pyrenees Rescue Toufer Has Found His Forever Home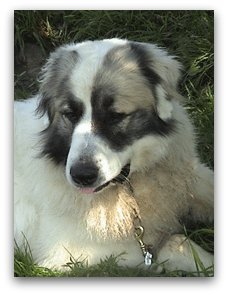 We are delighted to report Great Pyrenees Rescue Toufer has found new loving owners and his forever home.
This Was Great Pyrenees Rescue Toufer's Story
Toufer en Francais Meet the lovable and intriguing Great Pyrenees Rescue Toufer. I would like to call him Zebulon but his new human friend might prefer something like Jedediah. He was surrendered because the people no longer had time to take care of him. Toufer is a very striking dog, the kind that makes heads turn when walking on the street but he is hardly an accessory for the fashionista! He is a big, strong, very intelligent fellow who quickly learns what is in his best interest. A little note on his colouring: it is a dark blaireau and not as grey as the pictures suggest.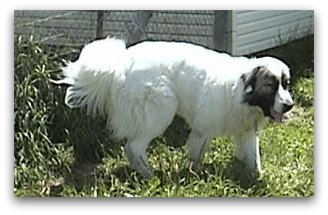 Toufer responds to this name the same way he responds to all the others that he is supposed to listen to … that is, with a questioning look or not at all. No, he is not deaf! … just ordinary Pyr selective hearing. He does understand "NO!" and he is getting the idea of "sit" or "assis" and "heel" or "au pied", "down" too, with a little nudge on the back end. Walking on a leash is quite good overall. You just have to make sure his collar is up under his ears and not down on the neck because he came with a chain collar and when this is not placed properly, he is uncomfortable and he will mouth your hand to signal this. He communicates very nicely when something is not right!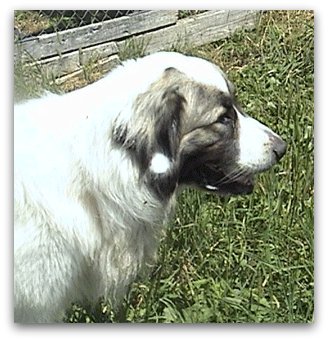 When I am working out in the runs, he follows me around or looks up every so often to check if I am all right. He also checks out my knees as he passes me, to see how the arthritic appendages are doing. His people guarding skills are well set.

He is a very affectionate fellow and really wants be with people and be petted and loved on and played with.
His name is supposed to be Touffu and he did listen to my grandkids when they called him Touffu when they all played, so we have tried that, and Tofu, and Toufer, and Tuffy and all sorts of others that have some resemblance. Otherwise, he just looks at us wondering why we are making all that noise and then goes back that all important examination of the area. He does come when I call him to play though.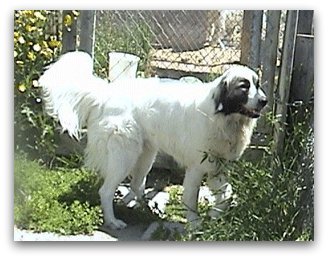 He loves to play Frisbee, but you need two of them. He'll bring it back and put it somewhere near you but he won't give it to you. You throw the second one to have time to pick up the first one. If you don't he'll just insist on guarding it! He also loves to play the Pyr games of "bow out" and "catch me if you can". He also loves to come running when you call and then jump up on my arm when he's close. This would be great for older children but he really doesn't know to gauge his strength for a younger one. It's been a true adventure of exploration to find the things he does. I am certain there is more to discover.
So if you want to have a dog who is an absolute joy to play with, here he is.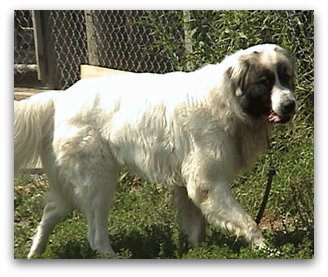 He is learning not to greet you full face. He would really be well with older children or a young adult who would spend time showing him new things and allowing him to work off his energy and use his high intelligence. When he figures out that he is being well treated, he learns very quickly. Although there were young children in his original family, I would not recommend this. He forgets the no full face rule and he will easily jump and put his paws on your chest. He is learning but he needs an occasional reminder; after all, he is only 15 months old and just a big puppy yet.
Being only 15 months old, he devours his two pounds of raw chicken in the evening and then his bowlful of corn-free kibble in the morning. On rainy days, he is very happy to chew on a bone and clean it off. Of course, when he has finished cleaning it, he asks for another one. I prefer he use his teeth on that rather than on the wooden planks of the pen!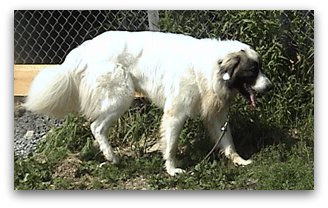 His appetite will lessen as he matures. He was fed a low-grade kibble but on a better quality food regimen he is really filling out now. He is no longer such an excitable fellow as when he arrived as a Great Pyrenees Rescue. He is just a big playful over-grown exuberant adolescent now. He is house trained and sleeps in the house nicely. He has been living outside with a large shelter. He has not been barking overly much so he seems to have differentiated between what should be barked at and what does not need to. Of course, being a Pyr, he does tell me what is going on though.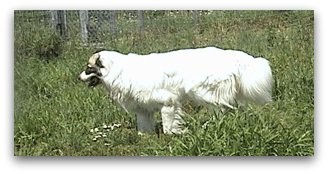 This Great Pyrenees Rescue does need run and play time and he lets me know if I try to cut short this time. We have 20 minutes of play morning and evening. He would like more. However, when he has burned off the excess energy, he will sit down under the tree and just go into guard-sleep mode, that is lying there with his eyes almost closed. This Great Pyrenees Rescue is a pleasure and he will gladly take someone on a voyage of discovery of the wonders of companionship and exploration. Will you be the lucky human this Great Pyrenees Rescue adopts and makes his own and teaches about what is important in life to enjoy??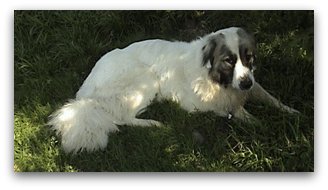 Would you like to help us? You can use your Credit Card or Paypal to make a donation to support our rescue work. All donations are greatly appreciated… no matter how small. You can be assured that every penny goes to support our rescued Great Pyrs.

Your Payment is Secure!





Why not check out another successful Great Pyrenees Rescue Story.
---
---