2009 Toronto Sportsman Show
If you have ever lived in Toronto, Ontario you know the annual Toronto Sportsman Show is one of Toronto's favourite, traditional events. And of course the Great Pyrenees Club of Southern Ontario is usually on hand to showcase Great Pyrs and introduce the public to these beautiful big dogs.
The Sportsman Show took place at The Toronto Exhibition show grounds on March 18 – 22, 2009. Our Pyrs were on display on Friday, Saturday and Sunday.
The Sportsman Show is a benched show – which means the dogs are not "shown" in a ring, as they would be in confirmation or obedience, but instead, are on show at our booth. People are free to wander around and look at the dogs and ask questions.
As usual our Pyrs were on their best behaviour and were perfect ambassadors of the breed.
The booth was manned by a number of different people over the weekend, including Ann Bacon, Lois McIntosh, Jana Chvatal, Sandra Young and other Pyr owners who dropped by to chat and stay awhile. A few of them even brought their puppies and young dogs to stay for an hour or two. The Toronto Sportsman Show provides a great way to socialize the youngsters and introduce the public to Pyrs of all ages and sizes.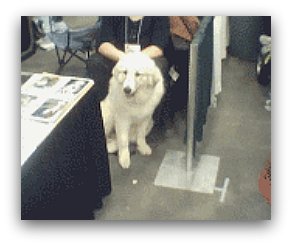 Val Toth and her daughter Emily also had a booth showcasing her Pyrs and King Cavaliers (both of which she breeds). So there were many dogs to admire and pat in our area. We introduced the public to many different ages, from puppies to older dogs, making it a great opportunity to educate those folks unfamiliar with the breed. As is usually the case, many visitors could not believe that those cuddly balls of fluff would grow to become such a large and elegant dogs.
Although, as always, it was a long day for both the dogs and their owners, it was a rewarding experience that we enjoy every year. And based on the feedback we received, our visitors enjoyed our dogs as well. So all in all it was a very successful event. Let's leave the Toronto Sportsman Show and see other Events


---
---