Apollo
by Maryanne Pearce
(Ottawa, Ontario)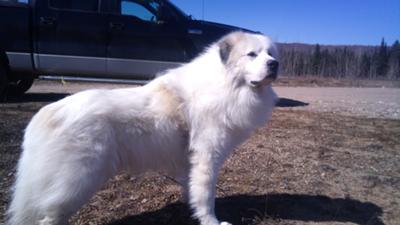 Majestic and Regal - Apollo
This big, handsome boy is a five year old Pyr named Apollo. He has lived all his life with a handicapped woman in a country setting, but not outside. Unfortunately, his owner lost her home, and he was taken in by her brother. Although much loved by the brother, his work takes him out of town for weeks at a time. He contacted SOGPC Rescue seeking help.

Apollo is up to date on his shots, and will be neutered and microchipped before adoption. He has not yet been temperament tested for suitability to living with other dogs or small children. He is described by the brother as a big couch potato who spent most of the time at his sister's feet. As she was disabled and had poor balance, he is very gentle and careful in his movements.

Would you have room in your home and your heart to give this lovely boy a forever home?

Please use the following contact information.

Southern Ontario: Dr. Carol Graham

Home: (519) 853-3005 - please leave a message

Clinic: (519) 855-6439 - provide information to receptionist if Carol not available

Please phone only between 10 a.m. and 8 p.m.



Ottawa / Eastern Ontario: Maryanne Pearce

Home (evenings / weekends): (613) 823-5445 - please leave a message and/or try cellphone

Cell: (613) 867-6346 - please leave a message

Please phone only between 10 a.m. and 8 p.m.