Barron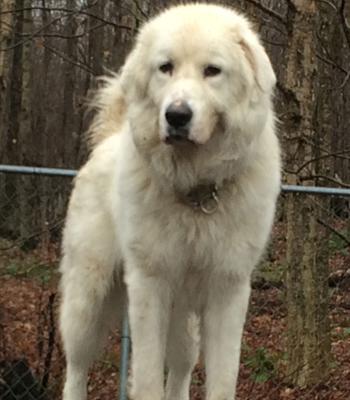 Great Pyr Rescue - Barron
*UPDATE 24.11.2016

Barron had been tied to a tree for the first two years of his life when a good samaritan came to his rescue. As you can imagine, this boy needed a lot of work and to learn to trust.

His adopter took on the challenge of everything from house-training to counter-surfing and more.

We are so happy she didn't give up because two years later, he has become a good canine neighbour with her persistence, patience and consistency in positive-reinforcement training.

Barron and his Pyre companion, Niobe, are inseparable.

Thank you, Kara, for seeing the potential in this beautiful boy. And, thank you so much for the update.

This is what Kara had to say in her update:

It has officially been two years since Barron joined our family.

We cried a lot in those first few months and it was a real challenge working with Barron in the beginning, but we were so in love with him, and knew if we tried he would eventually fit into our family.

It was a world of "one step forward and three steps back" for awhile. And then one day, we just stopped taking backwards steps.

We were full steam ahead, and have never looked back. Barron has become an amazing addition to our family, and we love him dearly.

I just want to thank you for being an ear in those early days, and also for everything you and the GP rescue group do.

This was his story:

Big sweet Barron, a big white fluffy, was rescued by a kind person. He had been tied to a tree for his short two years of life. They surrendered him to us so that we could find him a home. He knows come and sit. He is very good natured and needs someone to show him the way.

He is good with adults and children.

We have very good information on our website which we encourage you to take the time to read. Please do your research on this breed to ensure this is the dog for you.

As a Pyr he does bark. This is one of the tools that allows them to do their job to warn off predators. They dig holes in your garden to stay cool in the summer, and shed at least twice a year and will leave white dust bunnies throughout the year. They will wander since this is instinctive to them as they are used to wander with the livestock they guard. They must be contained within a fenced-in secure area of a minimum of six-feet in which they can play and guard their territory. Tie-outs are not suitable since this does not allow them to properly patrol their territory. They have been known to go through electric fencing. Being sensitive dogs, this can give them a scare.

Pyrs needs patience and consistency in their training and someone who will work with their instincts. They are independent thinkers and, therefore, only listen if it's worth their while. Treat them as partners in a dance where you lead the way.

Here is what his new family has to say... Things are moving well. We tried a lot of new things over the holidays with Barron - new routes for our walks, company coming over, presents under the tree, doggy day camps and the kennel over night.

He LOVED the day care, and after playing at the kennel ( we use a really good one where the have hours of play time) I have never seen two dogs crash so hard. He enjoyed our company and loves the new routes for our walks.

We still have a ways to go, but it's only been 6 weeks. We will get there eventually.