Barry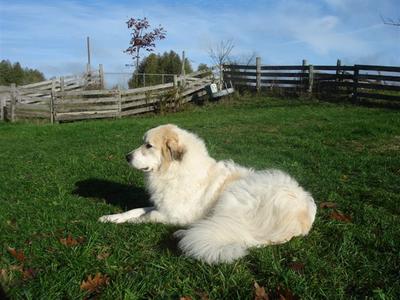 So serene!
We are delighted to report that Barry has found his forever home. Our thanks to his new family.

Barry is a 3 year old neutered male Pyr, originally from Quebec. His owner was a truck driver who had to spend long hours away from home and was forced to give Barry up when his sons moved out of the house. Barry is a people and dog friendly dog.

Barry does not have good conformation in the rear. He has 'popping hocks' and his right hock makes a clicking sound when he puts it on the ground. He has been x-rayed and his hips are good. His hocks do not cause any problems but he should probably stay on a joint nutraceutical as a precaution.

Barry loves to go for walks and be petted. He is very clean in the house. He is vaccinated and microchipped.


Return to Post A Happy Tail 2012.
---
---