Beautiful Bella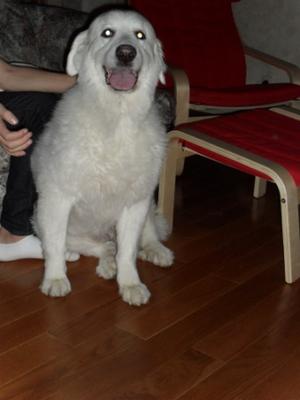 Happy girl!
We have wonderful news. Bella has found her forever home. Our thanks to her new family for opening their home to this beautiful Pyr. This was her story...

Bella is a 3-4 years old, spayed female. Poor Bella has been placed by Rescue before, but has had very little luck, no fault of her own. She is currently living with her adoptive family, who adore her, but their child has health issues and after trying everything to reduce allergens, Bella will need to be rehomed. Her fur looks quite short in these photos as a result of these attempts, but she does have a full, beautiful Pyr coat.

She only needs about 2 walks daily but can hold pee for a very long time, as her family discovered as she does not like the rain. She does not pull when she walks, she will jog with you if want to go for a morning run, but she will be tired and then sleep off the exercise. She is a very lovable dog and will be a great companion and has a mild demeanour

Bella is good with cats, however, they need to be fed separately. Bella does have some issues with food aggression with other dogs, so she should be adopted to a family as the only dog. Bella has not displayed any food aggression towards humans.

Bella is up to date with all of her shots, she received her kennel cough shot this year. Bella is very well-behaved and she is a calm dog. Bella loves all humans. She will always want to be with you at your side, but if you tell her to leave and point your finger, she will walk away and wait to be called back.

Bella listens very well, she understand no and only had to be told once that she is not allowed on the bed. She thinks she is a lap dog and will sit on your lap on the couch while you read or watch TV. Bella does not beg for food while humans are eating or cooking dinner, she will lay under the table while the family eats and she will sit at attention while we cook dinner.

Bella's adoptive family is has a message for everyone: We are going to miss Bella and wish that we could continue to keep her, she will be a great addition to any family. Can you give Bella the forever home she so very much needs?