Bella
by Great Pyrenees Rescue Team
(Toronto area)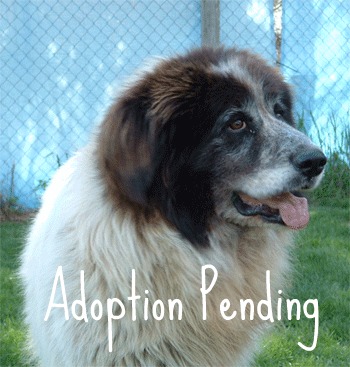 Great Pyrenees Cross Rescue Bella
Our Great Pyrenees rescue Bella is a Great Pyr mix who has been in foster care for a long time. Don't think that this has anything to do with her personality. Most folks are unaware of her since she has not been listed on the site!

Bella is a sweet, energetic young dog who would do well in a family with lots of time for walks and playing. This lovely girl needs her forever home.

Bella is a Pyr cross and we don't know with what. Normally we don't take crosses like this but she was in Hillside Kennels, a no-kill shelter, who asked the Club rescue for help in placing her because she was not at all happy in that environment. As we all know, Pyrs do not do well in cages in shelters!

This happened a year ago. The people who surrendered her to the shelter just did not want her any more.

Of course we know that story well. A dog is bred knowingly or inadvertently, because she had not been spayed, this usually because of ignorance of the consequences. The puppies are either sold for a small amount as cheap dogs or given away right and left to whoever might want one. People take large breed puppies because they are cute and cuddly without thinking that they will become large dogs.

Because they are cute and cuddly, they are not properly trained or take up space and at one point the dog is just too big. They are no longer wanted.

Bella's foster home (a breeder kennel) has had her for a year now, working on her social skills. She knows to sit, stay, shake-a-paw and walks well on a leash. Since she was about 14 months old when she was placed in foster, she is now over two years of age, health checked and spayed.

She has a sweet disposition. She is smart and learns quickly. She likes to climb and would probably be a good candidate for agility for a person or family who would like to participate in this sport.

Bella is a bit nervous but has been doing very well living with a male for company. She has a slight infection in the right ear that is being treated. She is up to date with her vaccines and is in excellent health.

For someone who wants an active dog to accompany them on tracking or agility runs, Bella will be more than happy to oblige. The dark brown patches might come from a spaniel or a setter in the cross. It is difficult to say.

Bella will overcome her shyness for the right human to give her a forever home and love and companionship as only she can.

Are you looking for a more energetic dog than the typical Pyr? Then Bella is the dog for you!

Bella is currently in foster care in southern Ontario.

If you are interested in adopting this sweetheart, please contact Dr. Carol Graham at (519) 853-3005 (home) or (519) 855-6439 at the clinic. Please leave a message if Carol is not available.