Bobby, the Big, Gentle Bear
by Maryanne Pearce
(Ottawa, ON)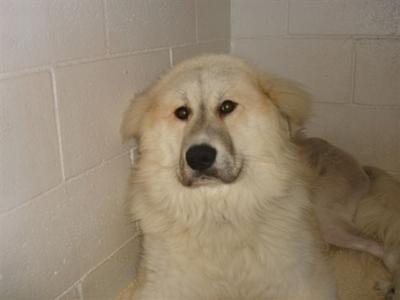 So fluffy!
Bobby has found his forever home. Thank you to his new family.

This was his story...

Bobby was a livestock guardian. He had no vaccinations or vetting of any kind until he was a year old, when he was brought in with a leg injury. Unfortunately, the injury was quite old and the dislocation could not be easily fixed.

His owner did not want to spend any money on fixing this lovely one year old boy, but the vet contacted Dr. Graham. Bobby came into care immediately, and had orthopedic surgery. His recovery was much faster than was anticipated, and he is moving around really well.

Despite having been a barn dog, he is very clean in his cage and would be easily house trained.

Bobby could return to being a livestock guardian on a small hobby farm, but not a large commercial operation; that would be far too much territory to cover on his leg. He will have a full, normal life, but cannot endure extreme exertion.

This large, gentle dog would also be a lovely house dog for a family in the city or country. He is described as being incredibly gentle for his size, loving and happy.

This big boy, however, is very afraid of thunder storms and trembles and quakes. (Some Pyrs take no notice, some bark and challenge thunder and some quiver in fear of storms.)

Can you give this beautiful, loving dog the forever home he so deserves?