Brinley - Courtesy Posting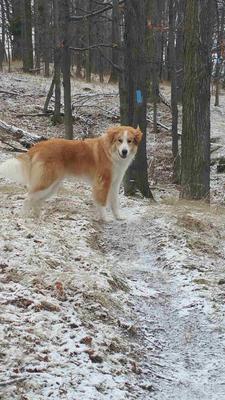 *ADOPTED* She has been adopted to a family on a farm.

Note: Brinley is not in our care.


Gender: Female, spayed
Age: 2 in January 2019
Breed: Bernese Mountain Dog x
Great Pyrenees
Weight: 75 lbs
Vet: Orangeville
Health: overall good, please ask for more details
Temperament: Great with all animals and kids
Energy level: 4/10

I am the proud owner of this wonderful, loving and obedient puppy. We have to unfortunately find Brinley a better suited home due to her special needs. A member of our family also has extreme allergies however we have tried hard to do everything we can to keep her.

She needs a forever home with more outside space and time to roam, full vet care due to her special needs, and a loving family with preferably more pets as she loves all animals and is very submissive.

She is full grown at 75 lbs but still has some maturing to do. She is extremely well trained and loves everyone and everything. Brinley loves her walks and off-leash time at the dog park. Her favorite season is Winter because of all the snow, she's definitely a snow dog although she loves being inside and cozy with her human.

She has severe anxiety due to her breed and needs lots of space and walks to calm her. With a veterinarian in the family, she has been on a few medications to help with the anxiety however we believe with the right space and family she would be fine without medication. She does the best on her more anxious days on a 1ml dose of animal regulated CBD oil.

She is afraid of men, loud noises in confined areas and is extremely flighty around simple household things. She is house trained, crate trained, easy to bath and groom, up to date on all her vaccines and annual remedies. She has been well-cared for by a veterinarian in Orangeville all her life and has a few special needs;
Digestion
Autoimmune
Anxiety
Pioderma

More details upon contact.

If you are interested in this gorgeous and wonderful girl please text, call or email -
#519-993-1005
mocamwillox@gmail.com


She has been well-cared for by a veterinarian in Orangeville all her life and has a few special needs;

Digestion
Since Brinley was a pup she never settled on a food without problems. She tired and was tested on about 6 different dog foods before we found something that suited her needs. She is currently on Royal Canin Hypo Hydrolyzed protein.
For the 1st year of her life she was the store dog at the Global Pet Foods in Orangeville as I managed it. With her by my side she did well with socializing from a young age. We tried multiple foods such as; Carna4, Farmina, Rayne kangaroo, Acana pacifica, etc.

She has always been on a probiotic (She's tried Purina Flora 4 and Carna4 Flora4)
Since being on the Royal Canin Hypo for approximatley 8 months, we havent had to give her any probiotics or anything else for digestion. This seems to be the food for her.

Autoimmune

She has contracted Giardia 4 times in her life as well as the circovirus which tells us that she is prone to picking up bacteria off the ground. We've had to watch her outside activities such as, digging, drinking from puddles, swimming, etc. This is usually where these viruses are found.

She is prone to bladder infections and has been put on medication to stop as well as crananidin to prevent.

Anxiety

For her anxiety we've tried many things such as Zelkeine, therabites, CBD oil (no THC). She usually doesn't get anything except a bit of CBD oil here and there depending on what she does that day. We generally feel that with the right home she wouldn't need any medications at all.

Pioderma

She has always bathed in specialty shampoo due to skin sensitivity. I always keep topicals on hand for any skin irritation (hives on tummy). She is prone to ear infections so I generally clean her ears once weekly/bi-weekly depending on smell.