Bumbles!
by Maryanne Pearce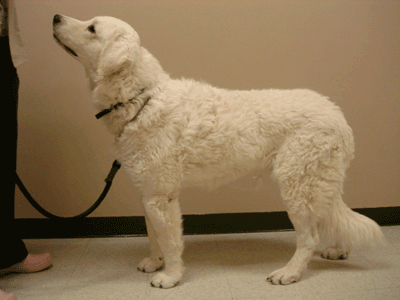 Great Pyrenees Rescue Bumbles

Thanks to the open and generous hearts of his new family, Bumbles has found his forever home. This was his story...

Meet Bumbles!

Bumbles is a wonderful, playful one year old dog. He is neutered, microchipped and up to date on vaccines.

Bumbles was found as a stray in Owen Sound. Although not a Pyr, the club has stepped in to help this BWFD … Big, white fluffy dog. Dr. Graham suspects that he is likely of Kuvasz origin.

Bumbles is very playful, friendly and appears to get along with other dogs. He can be quite rambunctious and requires an experienced owner who can help him with his manners. He is very food motivated and easy to train - so far he knows his basic commands, sit, down, and he is working on shake a paw. He walks well on a leash with a halti, and is working on his heel.

We would recommend a home without small children due to his size and rambunctious nature. We do not know how he is with cats.

Can you make Bumbles a very happy dog by offering him a good home, exercise, training and a whole lot of love?